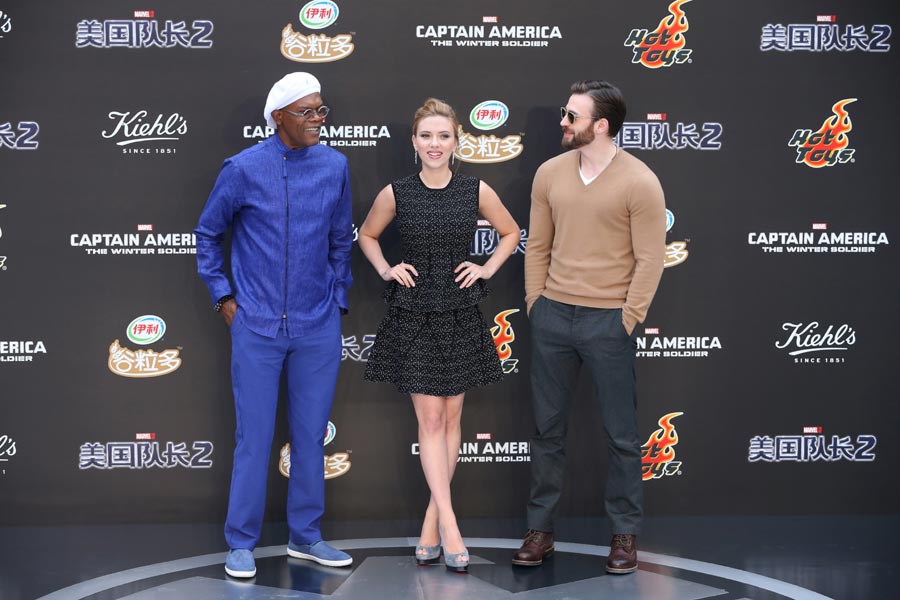 (L-R) Cast members Samuel L Jackson, Scarlett Johansson and Chris Evans pose at the promotional event of the film "Captain America: The Winter Soldier" in Beijing on March 24, 2014. The film opems on April 4. [Photo by Jiang Dong/Asianewsphoto]
Cast members Scarlett Johansson, Samuel L Jackson and Chris Evans arrived in Beijing to promote "Captain America 2," to be released in China on April 4, the same day as its US premiere.
The actors who play "Captain America" and "Black Widow" interacted with about 700 fans for 30 minutes in Sanlitun Village, a posh business community in East Beijing.
Samuel L Jackson, who plays "Nick Fury," commander of S.H.I.E.L.D., was also in attendance, together with the directors Anthony and Joe Russo.
The Russo brothers confirmed they will direct the third installment of the superhero franchise.
China has become the most important overseas market for Hollywood blockbusters, some of which have earned more here than in North America, such as "Pacific Rim." Against this background, Beijing has become a frequent stop for Hollywood stars' global promotion tours.