Leading centers attended by CPC members
The Nanyang Centre for Public Administration at Nanyang Technological University, Singapore
After the late leader Deng Xiaoping urging China to learn from Singapore in the 1980s, Nanyang was adopted as a "training base" for Chinese officials and business leaders. More than 1,200 officials obtained masters degrees in public management and economic management, and some of them have been promoted to provincial governorships. Overall, more than 15,000 officials from China and other Asian countries have undergone short-term training at the establishment, which offers executive training programs in public management, innovation, urban planning and education management.
SOURCE: THE OFFICIAL WEBSITE OF THE NANYANG CENTRE FOR PUBLIC ADMINISTRATION
Yale University, the United States
The two-week China-Yale Senior Government Leadership Program, which started in 2005, was designed for Chinese officials at vice-ministerial level. Some of the most-senior government officials to participate in executive education outside China have attended the program. Moreover, more than one-third (27 out of 75) of the participants in the first three-year annual program have subsequently been promoted to top-level positions. The program includes a week in New York and Washington.
Since the founding of New China in 1949, about 10,000 students and officials have traveled to former Soviet Union countries and in Central and Eastern Europe. More than 8,000 officials studied in the former Soviet Union - ex-president Jiang Zemin and former premier Li Peng both studied in Moscow.
SOURCE: THE OFFICIAL YALE UNIVERSITY WEBSITE
What they say
"I studied on the MPA Program at the Illinois Institute of Technology in Chicago in 2010-11. Not only did my academic knowledge of public administration improve, but also I felt enlightened in my work back in China. For a university language major like me, it was also a great opportunity to immerse myself in a foreign environment. It was very worthwhile."
Kang Yi, deputy divisional chief of the Americas and Oceania department at the Liaoning Provincial Foreign Affairs Office
"The four-months of public policy training at Duke University (in the US) were helpful in changing our way of thinking. For example, when planning a project (in China), it often occurs like this: each department only speaks on its own behalf and lacks an overall view. When unexpected problems emerge, people just start again. But in the US, people pay great attention to interdepartmental cooperation. They design the overall layout and the flow, then implement the project step-by-step. But of course, we cannot just copy their methods. The training gave us the chance to understand things better, but we have to rely on ourselves to find ways of solving problems in China."
Zhang, an official with the China Meteorological Administration who preferred not to disclose his full name
"During my 10 months of study on an MPA program in the US between 2012 and 2013, I noticed the differences between East and West in terms of culture and mindset. We had a lot of case discussions with the teachers, which is different from how classes work in China. I also researched the subject related to my work - the use of both print and new media to produce impressive publicity materials. I felt I had a better command of my job and gave more consideration to the things our target audience wanted to know."
Yang Guang, a publicity official with the CPC Dalian municipal committee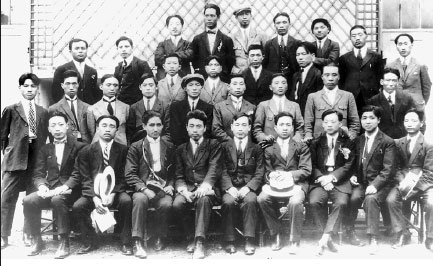 Zhou Enlai (fourth from left in the front row) and Deng Xiaoping (third from right in the back row) pose with delegates at a meeting in Paris in July 1924. Xinhua News Agency