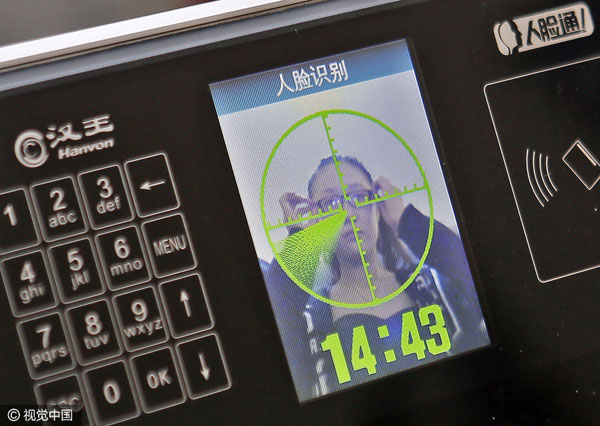 A woman tests a facial recognition machine in this file photo.[Photo/VCG]
East China's Jiangxi province has started to install face recognition technology in internet cafes across the province to stop entry of children, thepaper.cn reported.
The online real name registration system, which is also being installed, will help trace the authenticity of the users' ID.
Once child logs on to one of the more than 5,000 monitored internet cafes, the system will immediately report it to the authority and retain evidence.
China banned internet cafes from allowing anyone below the age of 18 in 2002 and every customer was required to show ID before entering the bars.
The system aims to use technology rather than human check to implement the regulation. It is expected to finish installation before the end of October and finish trial run before the end of November.
Media has been reporting the violation of rules both by children and internet cafes for years.
On Oct 19, 2015, a 16-year-old student, surnamed Zhou, skipped classes and surfed the internet in a cafe for about seven hours before passing out and later dying in Hongze county, Huaian city of East China's Jiangsu province.
On Dec 28, 2014, a 17-year-old boarding school student Xiao Lei, alias, went to an internet cafe with friends after drinking and fainted at 3.32 am in front of the computer before dying two hours later in Liuzhou, South China's Guangxi Zhuang autonomous region.