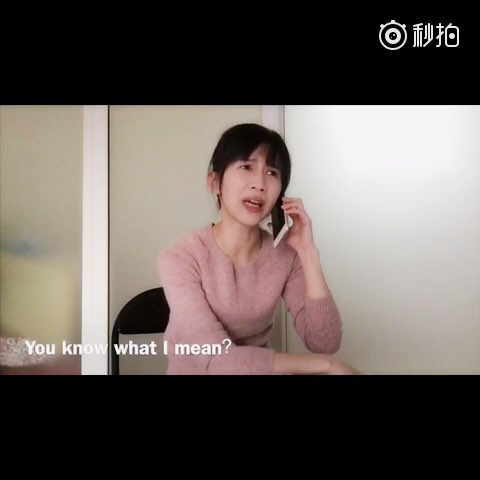 Screen shot of a video posted by Internet celebrity Papi Jiang's Weibo account. [Photo/Weibo.com]
BEIJING -- The nascent "online influencer" industry is expected to embrace a boom, as self-made Internet celebrities, brokers and investors gather for new business opportunities at the ongoing World Influencer Forum in Beijing.
While venture capitalists seem to have less passion for technology startups amid a sluggish global economy, they are acting fast in the new battlefield of Internet celebrity chasing.
"Internet celebrities have attracted most of the Internet users' attention, which can translate into cash through online advertising and e-commerce," said Ding Chenling, founder of Redbang, an Internet celebrity consulting firm and sponsor of the summit.
The spread of social media platforms, including Twitter, Facebook, Instagram and Sina Weibo, as well as short-video sharing and live streaming platforms, have all contributed to the mass production of Internet celebrities, said Ding.
The World Influencer Forum, which kicked off on Friday, provides a sounding platform for Internet celebrities, investors and brokers from both home and abroad to communicate and learn from each other, he said.
Internet celebrities, or Wang Hong in Chinese, are usually regular people who go on to attract millions of fans by creating original content on the web and social media, often becoming key opinion formers and online broadcasters.
Internet celebrities are divided into three categories: eye-catching celebrities, typically with good looks, who appear on live broadcasting platforms; e-commerce Internet celebrities who recommend and sell goods; and those who create original content, said Cai Xiang of SAIF Partners, a private equity firm operating in China.
"The biggest opportunity lies in Internet celebrities with unique content," said Cai.
Papi Jiang, an Internet celebrity who became famous by posting satirical videos on social media sites, received 12 million yuan (1.8 million US dollars) in venture capital this March for a 12 percent stake in her team.
Investors sold the first ad on Papi Jiang's videos at an auction on April 21 for 22 million yuan, which was deemed a milestone for the Chinese Internet celebrities industry.
The best earning Internet celebrity in the world is probably Felix Kjellberg, a 27-year-old Swedish game player better known by his online alias PewDiePie. He earned 12 million US dollars last year by playing games and sharing ad revenue on his YouTube channel.
Like many of their counterparts on western social media, a huge number of Chinese Internet celebrities use their platform to promote skincare and makeup products, behavior they are likely getting paid for.
Hundreds of Internet celebrities, mostly females, sell clothes and cosmetics on Taobao, the world's largest online shopping platform. If large enough numbers of followers are gained, business can be lucrative.
According to CBN Data, a commercial data company affiliated with Alibaba, the Internet celebrities economy is set to be worth 58 billion yuan in 2016, more than China's cinema box office in 2015.
The enormous earning potential has led to the rise of Internet celebrities incubators.
Treasure Hunter, the largest Internet celebrities agent in the Republic of Korea, has signed contracts with 100 Internet celebrities popular on online video platforms, including one that teaches people how to make late-night snacks and one that makes funny comparisons between Korean and Vietnamese culture.
"We invest up to 100,000 US dollars for a single Internet celebrity, together with technology and team support," Song Jae Yong, the company CEO, told Xinhua.
"With the capital, we can open restaurants and coffee bars," said Michael Zee, who takes pictures of his breakfast every morning to post on Instagram. Zee's SymmetryBreakfast account has 634,000 followers.
Zee said that British investors and Chinese advertisers have already contacted him for cooperation.
The Chinese version of Zee's cookbook, published in the U.K. in August, will come to China next year, he told Xinhua.
Brent Morgan, an Internet celebrity at American music streaming service YouNow, makes more than 10,000 US dollars every month from tips and gifts from his fans, and told Xinhua that he is optimistic about business opportunities in China.
"The live streaming business is so huge in China. I'd be stupid not to work with somebody here," he said.