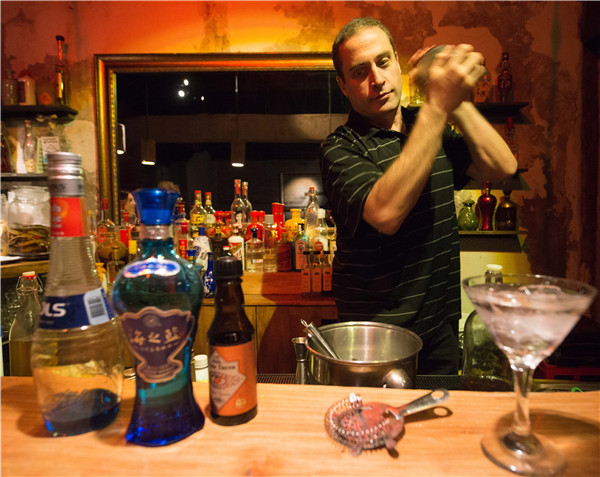 A bartender mixes a baijiu-based cocktail at Capital Spirits in Beijing.[Photo by BRUNO MAESTRINI/CHINA DAILY]
BEIJING - Think China's traditional fiery tipple baijiu is too much? Try blending it with coffee, beer or even chocolate.
At a tasting event in the bar of Pop-Up Beijing, a home decor store in the city's Sanlitun district Saturday, Hannah from the United States changed her view about the high-proof, spicy liquor following a sip of coffee-infused baijiu.
Hannah tried baijiu in her first month in China and not surprisingly, disliked it. "It burned my throat when it went down," she said.
The concoction, however, offered a new experience, said Hannah, who ordered a shot of Moutai Iced Mocha -- baijiu mingled with coffee from Southwest China's Yunnan province. "The blend like this makes the flavor a little bit better and a little less strong," she said.
The new drink was a good start for first-timer Neil from England, who had never tried baijiu before. "I usually drink whisky or vodka, but now I am very curious about baijiu. I will try it sometimes," he said, adding that baijiu remains almost unheard of in England.
The tasting event was part of a campaign involving more than 40 bars and restaurants in 24 cities worldwide featuring everything from baijiu-inspired cocktails,liqueurs and infusions to chocolate, pizza and beer from Aug. 1-9 to celebrate the World Baijiu Day Tuesday.
The day was initiated last year by Beijing-based Canadian wine blogger Jim Boyce to raise the profile of baijiu outside China.
Data showed that in 2014, Chinese baijiu accounted for 37.5 percent of the world's total liquor output, but its share of the overseas market was less than 0.8 percent.
Boyce is satisfied with this year's campaign, in which each venue came up with their own creative ideas and contacted him through the World Baijiu Day website. "This year is bigger, and we have more ideas about baijiu innovations," he said.
Sam Cornthwaite, a co-founder of Beijing-based GoodWorks coffee and tea shop and also the bartender at Saturday's event, invented Moutai Iced Mocha and Hainan Island Iced Tea, which is a blend of baijiu and Yunnan tea.
"Baijiu actually changes with what else you mix it with and each brings out different nuances. That's why we are so excited to see how they can pair together and what they can pair with," said Cornthwaite.
The pairing is not always successful, though, he said. "We've tried 20 or 30 combinations, and only two succeeded."
China has a long tradition of serving its unique clear liquor in small shot glass that is often gulped all at once at the dinner table, commonly known as "ganbei." As clear as vodka baijiu has a taste all unto itself. Moutai and Wuliangye, both produced in Guizhou Province, southwest China, are the two most famous brands which Chinese leaders use to toast distinguished guests at state banquets.
Part of this year's theme is beyond "ganbei," which turns off many people.
"Like many others, I've had those reckless ganbei sessions that left me wondering if I could look at a bottle again," Boyce said.
"Everyone is used to just ganbei and ganbei. There's nothing wrong with it, but you don't taste baijiu because you don't have the time. All you have is the burn and the drunk," said Glenn Schuitman, a founding partner of the Pop-Up Beijing.
Schuitman insists on a strict "no ganbei" rule in his bar, believing that baijiu is to be appreciated. "We should drink it like we do whisky: you have a small amount and sip it," he said.
Keen on baijiu culture, Boyce said he has been met with doubts. For example, some baijiu producers questioned his intention and asked if joining the World Baijiu Day would cost them anything.
"I said I was just trying to promote baijiu and I did it just for fun," Boyce said.