World Baijiu Day, a Beijing-based campaign to promote appreciation of the Chinese white spirit around the globe, is actually a weeklong series of events that concludes on Aug 9.
Andrew Chiu and Andrew Wong of LA's Peking Tavern are participating for the second year, with a baijiu night that starts at 9 pm on Aug 5. "The Andrews" will serve up $7 baijiu cocktails "'til you feel like you can speak Chinese", including regular-menu items Wong Chiu Punch (baijiu, hibiscus and fresh lemon juice), Peking Coffee (baijiu, coffee and horchata liqueur) and Bloody Mei Lee, a baijiu-inspired spin on the Bloody Mary. You can also try the cool combo of Xifeng baijiu with celery juice chaser ($5).
There are dozens of events around the world through Aug 9 (www.worldbaijiuday.com), including a week of intriguing homemade baijiu infusions — raspberry and Chinese plum — for golden ale at Steve Wang's WE Brewery in Tianjin.
If your calendar is too full to catch any of the fun, China Daily has invited two European bar gurus — who came to Guizhou for a Moutai cocktail event earlier this year — to share their baijiu recipes so you can enjoy them at home.
"Le Beau Voyage is a strong, old-school cocktail," says French mixologist Guillaume Ferroni. "I use Chinese, French and Italian ingredients. Le Beau Voyage (and the use of maraschino cherry liqueur) refers to Marco Polo, who brought back Chinese marvels to Europe. They loved that story at Moutai."
Shackler's Revenge, the cocktail created by Dutch bar consultant Ulric Nijs, meanwhile, was inspired by a Guns N' Roses song.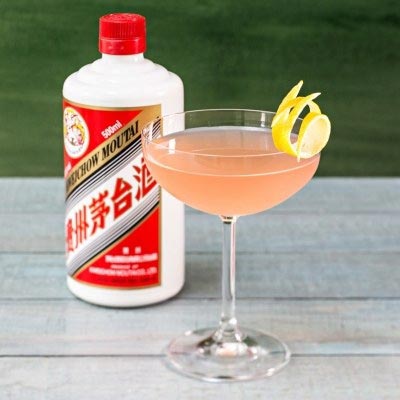 Le Beau Voyage. [Photo provided to China Daily]
Le Beau Voyage
From Guillaume Ferroni
10 ml Orgeat syrup Monin
20 ml lemon juice
10 ml marasquin (maraschino cherry liqueur)
30 ml Kweichow Moutai
5 ml Pernod Absinthe
3 dashes Peychaud Bitters
Absinthe spray
Garnish: Lemon zest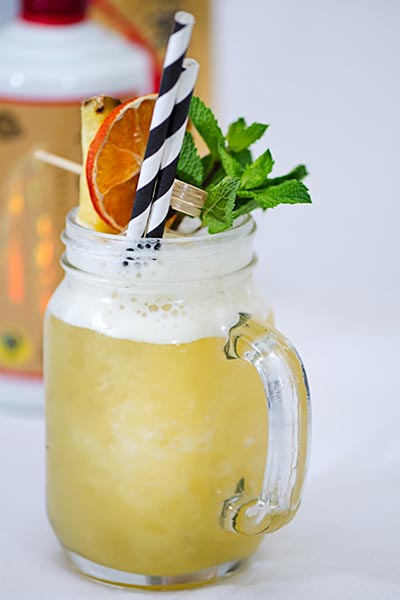 Shackler's Revenge. [Photo provided to China Daily]
Shackler's Revenge
From Ulric Nijs
20ml lemon juice
30ml pineapple juice
15ml Orgeat
3 dashes cucumber bitters
30ml 100% agave reposado tequila (Mine was made with El Jimador Reposado)
20ml Kweichow Moutai
Shake and strain over crushed ice and add garnish with a pineapple leaf or mint sprig, brandied cherry and orange slice, and a sprinkle of grated nutmeg.
Related: