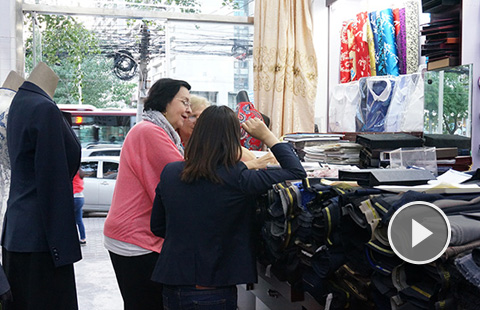 Yan Yuxiang bargains in fluent English with a new foreign customer introduced by a return customer in her shop in Beijing in May 2016. Click for video. [Photo/chinadaily.com.cn]
Instead of buying unnecessarily expensive read-to-wear, more Chinese are spending their rising income in a wiser way by customizing their office outfits in pursuit of tailored cuts and better fabric.
Customized suits are a lot cheaper than leading brands use better fabric and are more tailored than ready-to-wear suits in a similar price range, said 31-year-old Li Haijun, an office worker with a State-owned company in Beijing.
"Sometimes I feel it's rather difficult to pick an office suit," Li said. "If I wear a cheap ready-to-wear, I might be looked down upon by my colleagues, but if I wear an excessively expensive one, my superiors might feel uncomfortable and be offended."
"Customized suits can save me from the dilemma because it's often hard for outsiders to put an exact price on them than on brand name ones," added Li, who spends 1,270 yuan on a customized suit, vest, shirt and tie at Ewei Tailor Shop in Beijing.
Located in the renovated Silk Street area, Ewei covers an area of less than 20 square meters.
"I started my first tailor shop on Silk Street more than a decade ago when most of my customers were expats living in China," Yan Yuxiang, the owner of Ewei Tailor Shop and a versatile tailor from a small village in South China, said as she bargained in fluent English with a new foreign customer introduced by a return customer.
"Ewei is my second shop, opened three years ago when I felt only one shop wasn't enough to handle the orders from my regular customers," Yan said. "We've see an increasing number of Chinese customers in the past two or three years, and most of them come in to customize office outfits."
Among the clothing Yan's tailor shop makes are suits, overcoats, Chinese qipao and evening dresses and also helps customers revise ready-to-wear that needs alterations.
"Some of my previous staff left and started their own tailor shops to cater to the expanding market," Yan said, referred to a number of other tailor shops in the neighborhood.
Yan measures customers in her shop and then send the sizes to her small plant in Yizhuang, a southeast suburb of Beijing, where a dozen tailors work and will get customers' clothes ready within one week.
"I am also thinking about customizing a pair of shoes," Li said after trying on his customized suit and feeling very satisfied.
However, not everyone is a fan of bespoke tailors.
"I think customized suits sometimes are old-fashioned, but brand name ones release new collections regularly," said Liu Jian, a freelance interpreter.
"However, to make my ready-to-wear apparel more fit, I often send them to my favorite tailor's shop for revision after the purchase," Liu added.
Bespoke first appeared in London at the beginning of the 19th century in the belief that the width of people's shoulders and the length of their arms and legs are different and that only bespoke can provide them skin-like fit suits. Back then it often took one to three months to make a suit.