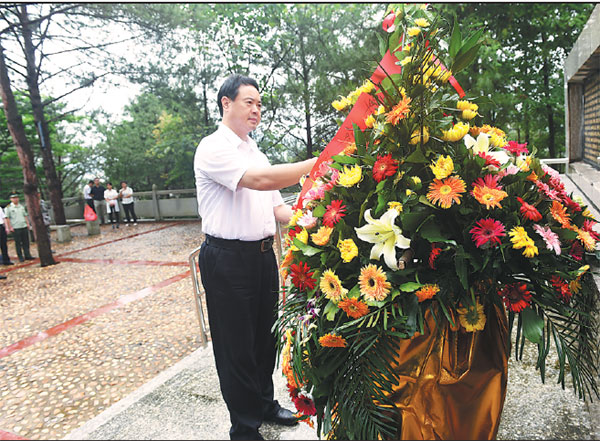 Cai Xiaowei, the top official in Huichang county, Jiangxi province, places a wreath at the county's cemetery for revolutionary martyrs.Photos By Zhang Xiao / China Daily


Huichang is the first place in China to pilot the ISO9001 anti-corruption system
Editor's Note: Cai Xiaowei, the top official in Huichang, leads a county of about half a million people by drawing on the vision and wisdom he receives from intensive reading and field research. An interview with Cai offers a glimpse into how Chinese officials at the grassroots level strive to ensure exemplary government and sound economic growth.
Cai Xiaowei needs a lot of shoes and even more books to live and work in a far-flung county in East China's Jiangxi province.
The top official of Huichang, about 450 km from the provincial capital of Nanchang, usually has four pairs of shoes in his car, stored alongside his favorite books, such as The World is Flat by Thomas Friedman.
"When you walk on dirt roads, you need flat shoes; when navigating through hilly areas, you need to wear hiking boots," the 46-year-old said.
As for the books, "I need to read them all the time, any time I'm free."
Cai, who was promoted to lead the mountainous county 18 months ago, is a typical example of how Chinese officials at grassroots levels can benefit from both hands-on experience and deriving ideas from the printed page.
Looking at the path Cai has taken may also offer some clues about how Chinese authorities groom young officials.
From age 24 through 44, Cai worked as a police officer, township chief, public procurator and deputy county magistrate in different parts of Jiangxi province.
Based on his merits, he was appointed Party chief of Huichang county - at 2,700 square kms, roughly the size of urban Miami - in October 2014.
The first few months were difficult and even dangerous for the novice official.
His predecessor, Fu Chunrong, was placed under investigation for "grave violation of discipline and regulations", a euphemism for corruption, in February that year, and almost all the county's major projects were halted due to depleted funds.
"I started with educating cadres; as for the development projects involving massive investment, I reviewed them one by one, shutting down some of them for good and wooing investors for others, " Cai said.
He initiated a "Lanshan Reading" activity in late 2014, requiring all government officials to read two books a month, and write a review on one of them.
"In my case, I finished all the designated books in the first half of the year," Cai said.
Most on the book list are bestsellers, such as The Governance Of China by President Xi Jinping, and The Seven Habits of Highly Effective People by Stephen Covey.
"You are what you read, and chances are that a genuine book lover is a problem solver and innovator," Cai said.
In every region of China, a force of well-educated, disciplined cadres is the key to sound social and economic development, he said.
Within half a year of taking office, the situation in Huichang had stabilized. Cai then pushed for a pilot of the ISO9001 anti-graft system, which seeks to identify hazards, assess risks and offers ways to control them for clean government.
"Every government employee is required to pinpoint the hazards or risks he or she may face," Cai said.
"For me, the greatest risk is how to exercise the power of approving and appointing officials. I'm well aware of the perils."
Part of the ISO9001 system is a "Smart Anti-Corruption App", which had been downloaded by at least 4,300 officials and 12,000 residents in Huichang by March.
It alerts officials to what they should refrain from doing.
It also offers a way for residents to report violations of rules and regulations.
"We are cooperating with the China Quality Mark Certification Group to improve the ISO9001 system, which is assessed by a third party, the Standardization Administration of China," Cai said.
"If it works well in Huichang, the pilot anti-corruption mechanism could be disseminated nationwide."
Huichang literally means 'will prosper'
Huichang, a county of about half a million people in East China's Jiangxi province, is thought to have got its name by accident.
The naming took place in 982, the same year that Viking Erik the Red discovered the world's largest island and named it Greenland, despite its abundant ice, in a bid to attract settlers.
Meanwhile, thousands of miles away, authorities in China's Northern Song Dynasty (960-1127) wanted to create a county in what is today's Jiangxi province, but could not think of a name.
According to legend, several workers digging a well in what is now the county seat found 12 ancient bricks, each bearing the characters for hui chang, which literally means "will prosper".
Satisfied that such a name would augur well for the county, the officials declared it would be henceforth known as "Huichang", and the name has been used ever since.
zhaohuanxin@chinadaily.com.cn