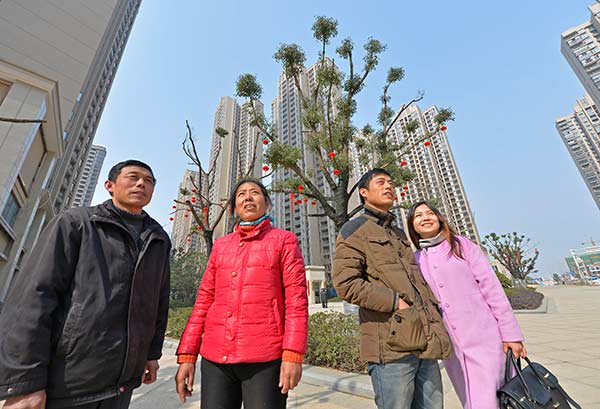 Bao Guohua and his family in Wuhan. CHINA DAILY
Migrant construction workers help build all the skyscrapers in China's big cities, but they typically cannot afford to buy an apartment in any of them.
Bao Guohua, a 51-year-old carpenter from the small Hubei province village of Xiao Gan, bucked the trend. After 35 years of toil, he finally bought a house of his own in Wuhan.
Bao left his hometown at age 16. Bright and diligent, he soon became a skilled laborer, which initially paid him 1.27 yuan ($19 cents) per day.
"At that time, things were not as expensive as today. For example, one steamed bun only cost 2 cents. But to buy a house, that was too much to expect in my life," Bao said.
In the ensuing years, he traversed China from south to north in search of better pay. In faraway Heilongjiang province, he overcame the cold and earned a reputation as a leader of a small team.
He began to calculate his savings in the tens of thousands of yuan, but homeownership still proved elusive.
"About 10 years ago, my brother still made jokes about me," Bao recalled. "He said, 'You may have built a lot of mansions, but not even a tile in this city is yours.'"
Stung by those words, Bao decided to buy an apartment. But the dream faded when he calculated the mortgage payment.
Still, with the encouragement of his only son, he persevered. A job as chief of woodwork in a State-owned construction company, with a salary of 7,000 yuan a month, made a difference. Last year, Bao thought it was finally time to make the dream come true.
He found the ideal house for 800,000 yuan, and this time managed to obtain a mortgage. For this single shot at homeownership, he used all his savings, 230,000 yuan, as a down payment, leaving his son, Bao Jiaheng, who has worked with his father since graduating from a construction college in 2011, to pay the mortgage.
"The south-facing apartment has three bedrooms, which is enough for a family. I will try my best to decorate it, because it will also be the marriage room for my son," he said.
Although also in the construction industry, Bao's 24-year-old son has little in common with his father's hardscrabble life. Absorbed in social media, such as microblogging and text messaging on WeChat in his spare time, Bao Jiaheng is more eager than his father to integrate into city life. "To have our own house in Wuhan makes our life more promising," he said.
Even though Bao Guohua has fulfilled his dream, he continues to work.
"It's a new beginning in my life," he said.
Zhang Li contributed to this story.