2012 London Olympic witnesses fireworks and apparels from China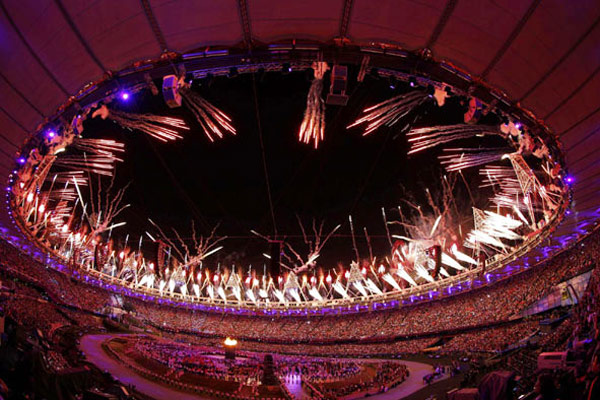 The Olympic cauldron is alight as fireworks are set off during the opening ceremony of the London 2012 Olympic Games at the Olympic Stadium July 27, 2012. [Photo/Agencies]
While China ranked second in the medals tally in the 2012 London Olympics, products such as fireworks and apparels made by Chinese companies also captured the honors during the Olympics.
Fireworks made in China lit up the sky during the opening ceremony of the 2012 London Olympics on Friday night.
About 11,000 suits, provided to American, British athletes and officials of the Organizing Committee of London Olympics and others at the opening ceremony, were made by a Chinese apparel company in Yantai city, East China's Shandong province.
Up to 65 percent of the foreign made licensed products, which accounted for 90 percent of the total licensed products, were made by Chinese companies.
Besides, 627 kinds of souvenirs, including mascots and London bus, out of nearly 900 kinds of souvenirs were made by Chinese companies.