2014 Brazil World Cup gets help from China's subway trains and LED screens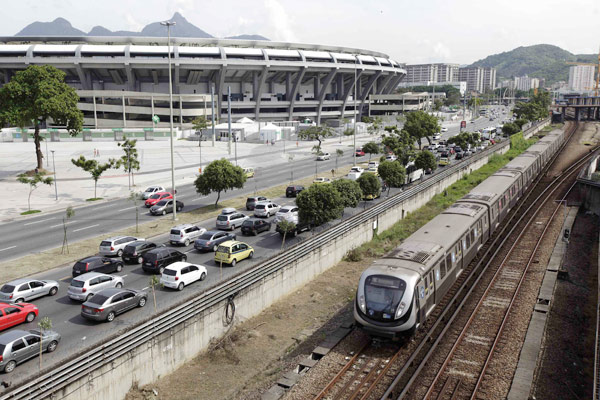 A subway train manufactured by China CNR Corporation runs near the Maracana Stadium, one of the stadiums hosting the 2014 World Cup soccer matches, in Rio de Janeiro, May 3, 2014. [Photo/VCG]
Chinese national soccer team did not compete in the 2014 Brazil World Cup, however, products made in China such as LED screens and bullet trains played their parts in the soccer kingdom.
While China-made LED screens were visible in each match and solar energy equipment powered the advertisement boards, bullet trains made by China linked the main stadium and host cities in Brazil, carrying nearly 82 percent of the urban rail transport capacity in Rio de Janeiro.
The official manufacturer of Fuleco, mascot of the Brazil World Cup, is an overseas subsidiary of a company from East China's Hangzhou city. The honor meant all the related toys were all made in China.
Besides score boards and soccer balls, caxirola – an instrument used by fans to encourage players was also made in China.