Internet commerce helps bring local favorites to foreign buys, as Zhou Wenting reports in Shanghai.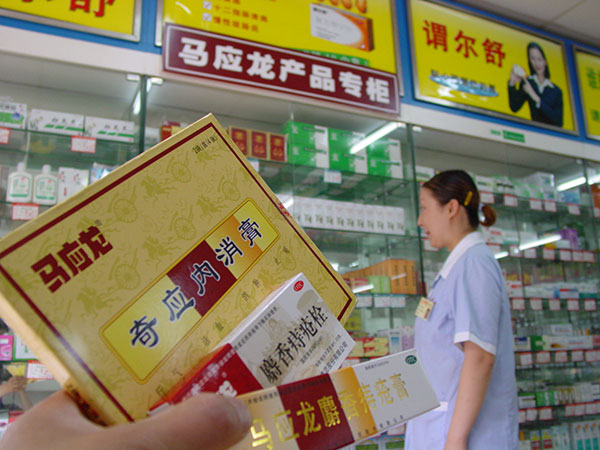 Mayinglong Musk Hemorrhoids Ointment Cream. For China Daily
A time-honored ointment produced in China that relieves an embarrassing condition is gaining popularity in the United States.
Mayinglong Musk Hemorrhoids Ointment Cream has earned the praised of reviewers, who are calling it magic from the East, with a 4.3 out of 5 rating from more than 1,000 comments on Amazon.com.
Such success is overshadowing chili sauce Lao Gan Ma, which has been in favor in the US and many other countries for at least a decade. Lao Gan Ma won the same rating on Amazon.com, but had only 77 customer reviews.
Over the past decades, Chinese products, from food to daily commodities, have been bought overseas through either well-planned promotions or gradually by the growing number of Chinese people going abroad.
"Generally speaking, what foreigners prefer among Chinese items are those with strong Chinese characters and flavors, such as qipao (cheongsam) and red paper cutouts for window decorations. Ultimately, it all comes down to quality. Good wine will always sell itself, and it has become particularly true in today's internet shopping age," said Shun Zi, a native of Shandong province who moved to Los Angeles with her family a decade ago.
Some of the US customers, who had suffered from hemorrhoids for as long as seven years and could only resort to surgery, according to doctors, felt much better after using the product for only a couple of hours.
"The person who created this stuff should receive a Nobel Prize, front row seats at the Olympics, an entire stable of miniature giraffes, and free Ivy League education for their children," wrote one user who claimed that she could not even sit or stand the day before using the cream but could function the following day.
"This magic cream will make you whole again. You will not shift endlessly in your work chair while attempting to crush the evil troll living in your rectum. You will not wince at the thought of having to go potty. Now, I waltz right in the men's room and proudly purge burrito with cheese of last night, and I don't flinch," reads another comment.
Others even complimented China.
"Sorry team America, China wins on this remedy," reads one comment.
"Once again China has bailed us out," reads another comment, where the user also wrote that he would never be without a tube of this in his medicine cabinet.
Mayinglong Pharmaceutical Group, based in Wuhan, Hubei province, declined to take media interviews about the sudden fame. A manager from the group's marketing department, who spoke on condition of anonymity, told China Daily that "it was utterly a spontaneous eruption of word of mouth and the company never interfered".