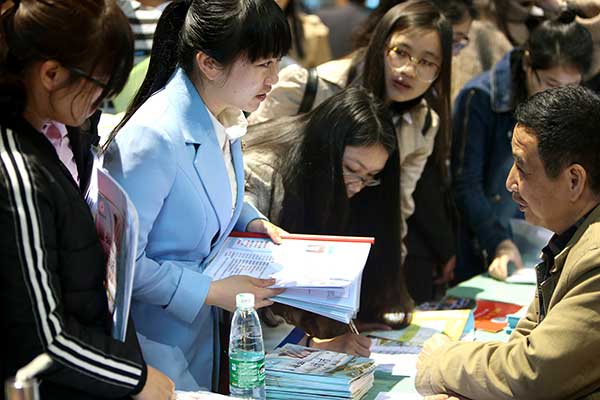 Graduates from normal universities in Hunan province interact with their potential employers at a job fair in Hengyang in March. More than 4,000 graduates participated in the event.[Peng Bin/For China Daily]
A survey shows that the internet industry gives the highest salary to college graduates and is providing job opportunities to 30 percent of them in 2016, a gloomier job market year than 2015.
2016 graduates on average will be paid 5,693 yuan ($873) per month if they get a job in the internet industry, according to the survey on graduates' employment conducted among 89,170 graduates and released by Zhaopin, an HR services provider in China.
The expected monthly salary of this year's graduates is 4,985 yuan on average, while the average monthly salary is 4,765 yuan in general, lower than in 2015.
Graduates majoring in law studies, medicine and engineering are the best paid in their first jobs. Those studying agronomy or art get the lowest average monthly salary, respectively at 3,425 yuan and 3,395 yuan.
The three most desired industries that this year's graduates expect to enter are IT, internet and electronics; finance; and government and public institutions. On the other hand, the top 3 in recruitment are, respectively, IT, internet and electronics; manufacturing and the automobile industry; and the finance sector.
Job market experts said the reason the internet offers the most job opportunities is that it is developing rapidly. And the threshold of industries like consulting, accounting, legal services and civil servants are relatively high, making it difficult for graduates to fulfill their job expectations.
Most graduates find a job in first-tier cities like Beijing, Shanghai and Shenzhen and the so-called "new first-tier" cities, referring to cities with vast potential for growth like Chengdu, Hangzhou and Nanjing.
Twenty-nine percent of this year's graduates are willing to work in first-tier cities, while the number for the "new first-tier" cities is a bit higher at 38.3 percent. But the rate for graduates getting a job in these two types of cities are 33.6 percent and 33.1 percent, respectively.
Experts said that life stress, high housing prices and traffic congestion are the reasons for graduates' lowered expectation to work in the first-tier cities. And the "new first-tier" cities attract more graduates with a better environment, slower pace of life and more emerging industries.
But first-tier cities are still attractive to graduates because there are more job opportunities and higher salaries there.
The rate of graduates who choose to start their own business dropped sharply to 3.1 percent this year from 6.3 percent in 2015.
Despite favorable polices and investment environment, inexperienced graduates with limited resources have little chance to succeed in their start-ups, experts said.
There will be 7.65 million college graduates entering the job market this year, a new record high.