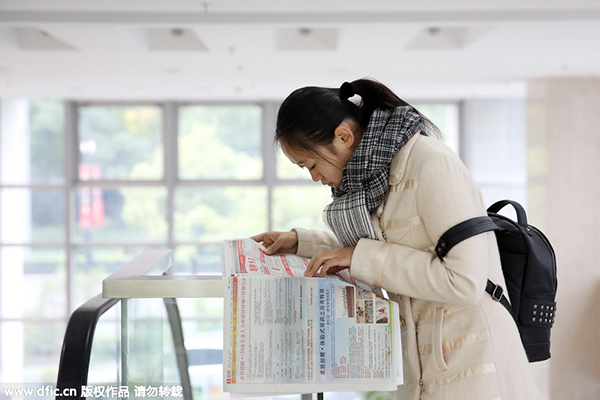 A graduate browses job information during a job fair in Hangzhou, Zhejiang province, Nov 25, 2015. [Photo/IC]
China's job market has taken a hit from the nation's drive to reduce excess industrial capacity, which has squeezed labor demand in the traditional manufacturing sector.
The CIER index, designed to monitor the job market climate, continued the declining trend that started in the beginning of 2015, falling to 1.71 in the first quarter of 2016, from 2.09 in the fourth quarter last year, revealing not such a rosy picture for the job market.
The index, developed by the China Institute for Employment Research (CIER) and the Chinese job recruitment website Zhaopin, is measured by the number of job vacancies divided by the number of job seekers. A reading above 1 means labor demand outstrips labor supply, implying strong confidence in employment.
Shrinking labor demand, or job vacancies, cropped up mainly in traditional manufacturing and energy sectors that suffer from overcapacity, the CIER said in its report.
The labor demand in large equipment, machinery and heavy industry sectors fell 14 percent year on year, it said.
Cutting overcapacity is one of the major tasks for the Chinese government this year. Now the policy is taking its toll not only on companies' operation but on the job market as reduced labor demand from the traditional manufacturing sectors fails to be supplemented timely by new labor demand from emerging industries.
According to a report by the China Business News, the demand for workers in Suzhou Industrial Park in east China's Jiangsu province fell 27.8 percent year on year in the first quarter, while the number of job seekers rose 3.9 percent year on year, pointing to increasing difficulties in securing a job.
A survey conducted among companies in the industrial park showed that 69.6 percent of respondents forecast flat demand for labor in the second quarter, 11.5 percent of estimated reduced demand and 18.9 percent projected increased demand.
The Chinese government set the goal to create more than 10 million urban jobs in 2016 and keep urban registered unemployment rate below 4.5 percent, according to the government work report to the annual parliamentary session in March.
The latest data from the Ministry of Human Resources and Social Security showed the nation's registered unemployment rate in urban areas stood at 4.04 percent at the end of March, down from 4.05 percent at the end of 2016. An additional 3.18 million urban jobs were created in the first three months of 2016.
Sheng Laiyun, spokesman for the National Bureau of Statistics (NBS), said earlier that China's unemployment rate was around 5.2 percent in March, slightly higher than February. The NBS figure covers urban permanent residents, as well migrant workers living in cities for more than six months. It also includes those who have not registered for unemployment.