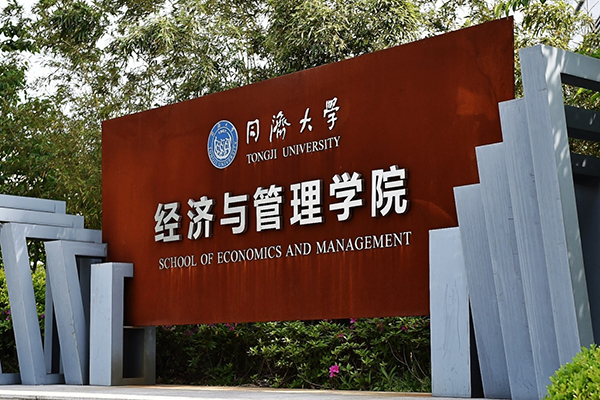 [Photo provided to chinadaily.com.cn]
Tongji University's School of Economics and Management (SEM) has been awarded a five-year accreditation from the European Quality Improvement System (EQUIS) and Association to Advance Collegiate Schools of Business (AACSB).
It is the first time in Tongji SEM history that it has earned a five-year EQUIS and AACSB accreditation. The school obtained a three-year accreditation from EQUIS in 2013.
Jin Fuan, Party secretary of Tongji SEM said, "The two accreditations allow us to develop a better communication, exchange and student training platform with top business schools in the world."
"We also promote Tongji SEM's core value of management education which are sustainability and responsibility."
Huo Jiazhen, dean of Tongji SEM, said "The best business education is destined to be fertilized in a thriving economic center. Taking root in Shanhgai, an international economic hub, Tongji SEM has fortified its success with three totems: internationalization, application-oriented teaching and research, sustainable development. The achievement of the five-year accreditation is an affirmation of the three totems."
The two accreditation agencies applied different criteria in evaluation processes. The EQUIS is awarded to business schools not only on general quality, but also takes account of internationalization, sustainability and relationship with companies. The AACSB accreditation requires schools to pay more attention on education quality, innovation and strategic management.
Huo said Tongji SEM developed its core competency to meet the requirements instead of complying with the accreditation standards mechanically and blindly.
"We developed a long-term internationalization strategy, set application-oriented programs and promoted the concept of sustainability in teaching."
Tongji SEM is one of seven business schools in China that obtained five-year AACSB and EQUIS accreditations.
The AACSB and EQUIS are two top business school performance evaluation systems that are designed to judge the performance of business schools worldwide.
Less than five percent of business schools in the world have been awarded the AACSB accreditation.
Robert Reid, AACSB executive vice president and chief accreditation officer of AACSB International, said, "AACSB congratulates Tongji University and dean Huo Jiazhen for successfully completing a multi-year process to achieve accreditation."
"Tongji SEM confirmed alignment with 15 global accreditation standards, while demonstrating how they achieve success within each of the three pillars on which AACSB accreditation rests - engagement, innovation, and impact."
Eric Cornuel, director general &chief executive officer of European Foundation for Management Development, said, "The award of five-year accreditation is a recognition to Tongji SEM for its achievements. It will enhance Tongji SEM's influence in global market and make it one of the top business schools."