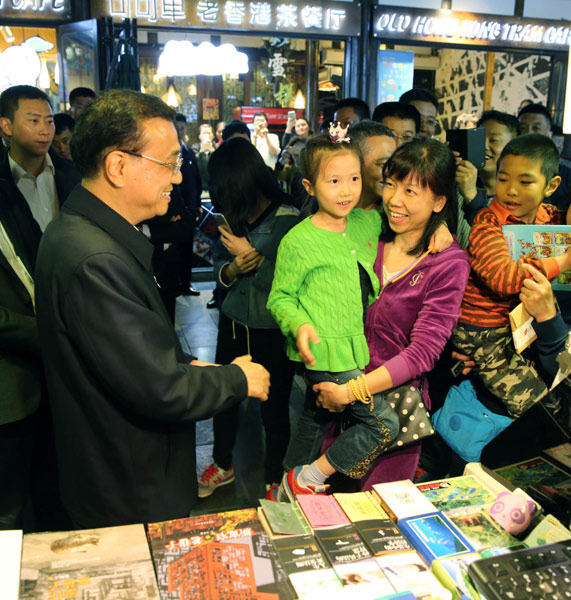 Premier Li Keqiang visits a well-known tourist spot, Kuanzhai Alley, in Chengdu, the capital of Southwest China's Sichuan province, on the evening of April 25. [Photo/gov.cn]
Premier Li Keqiang made a surprise visit at night to a tourist attraction and commercial street in Chengdu, capital of Southwest China's Sichuan province, bought some souvenirs and even recommended Chinese Tsingtdao Beer to some foreign tourists he met.
Soon after 8:20 pm on April 25, Premier Li arrived at the Kuanzhai Alley in Chengdu. He paid visits to several stores and talked with store owners about the business climate and tax burdens.
Shortly after he entered the alley he was attracted to a book store named "Jianshan", where he bought two sets of postcards and a book.
Li was soon surrounded by crowds of tourists who rushed to shake hands and take photos with him. He later visited several stores and bought a pair of panda dolls.
At a store, he talked in English with a young boss from Bangladesh and bought a vase with a camel pattern.
At a beer shop, Li had a good talk in English with several university professors from Australia. "Have you ever had Chinese beer?" Li asked with a smile, adding that China's domestic brand of Tsingtao is very good.