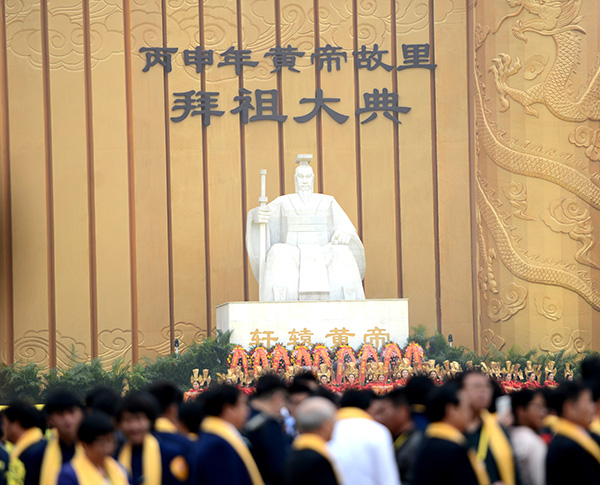 A grand ceremony is held to worship Huangdi, the Yellow Emperor, at Xinzheng, Central China's Henan Province, on Saturday. [Photo by Xiang Mingchao /chinadaily.com.cn]
Hundreds of both domestic and overseas Chineseforeigners from 30 countries and regions gathered together in Xinzheng city, Central China's Henan province, to join a memorial ceremony for Huangdi, the Yellow Emperor, to pay their respects to the legendary ancestor and the founder of the Chinese civilization on Saturday.
The Yellow Emperor, who is regarded as the ancestor of all Chinese people, reigned nearly 5,000 years ago.
It is said that the Yellow Emperor was born on the third day of the third lunar month in the traditional Chinese calendar, which is why it's a tradition to pay respects to ancestor and wish for a better future on that day.
The ceremony was co-sponsored by the Henan provincial government and Henan CPPCC committee, Taiwan Affairs Office of the State Council, All-China Federation of Returned Overseas Chinese, All-China Federation of Taiwan Compatriots and Association for Yan Huang Culture of China.
Xu Jialu, former vice-chairman of the Standing Committee of China's top legislature, the National People's Congress, read a poem worshipping the ancestors at the ceremony.
The event has been held in Xinzheng since 2006, and it was listed as a national intangible culture heritage item by the State Council in 2008.
More people from both home and abroad are coming to Henan to discover their roots.
Young-tsu Wong, a university professor from Taiwan, said China's long history is closely connected with the Central China's Henan province, and this is the first time he has come to the province as he wants to discover his roots.
"I know my family name could be traced to this province. I feel warm to hear the local accent, and proud to witness such a ceremony in Henan." he said.