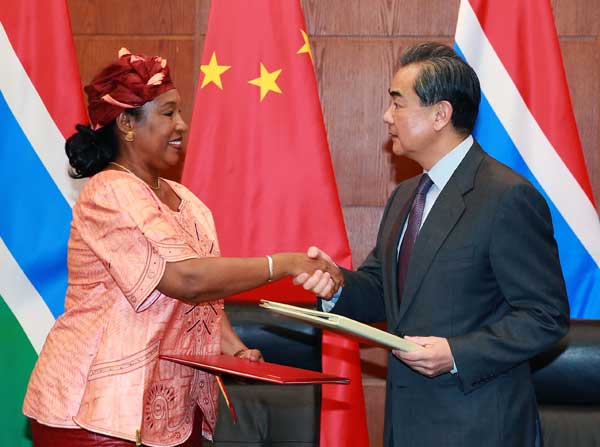 Foreign Minister Wang Yi greets his Gambian counterpart Neneh Macdouall-Gaye at a signing ceremony in Beijing on Thursday. ZOU HONG / CHINA DAILY
Beijing has resumed diplomatic ties with Gambia, the West African country that cut "diplomatic" relations with Taiwan in 2013.
Foreign Minister Wang Yi and his visiting Gambian counterpart Neneh Macdouall-Gaye signed a joint statement on Thursday to resume diplomatic ties at ambassadorial level.
"Gambia recognizes the importance and reality of the one-China policy, national reunification and peaceful reunification," Gaye said at a joint news conference with Wang.
Wang said upholding the one-China principle is the prerequisite and political foundation for China's diplomatic relationship with any country.
"For more than two years, Gambia has demonstrated sincerity and determination and has made the right choice on this matter," he said.
Foreign Ministry spokesman Lu Kang said at a regular news briefing on Thursday that the resumption of ties is "not targeted at any other side".
He said there is no change in Beijing's policy on pushing forward relations across the Taiwan Straits.
China formed diplomatic ties with Gambia in 1974. But in 1995, Gambia cut these ties and shifted to Taipei.