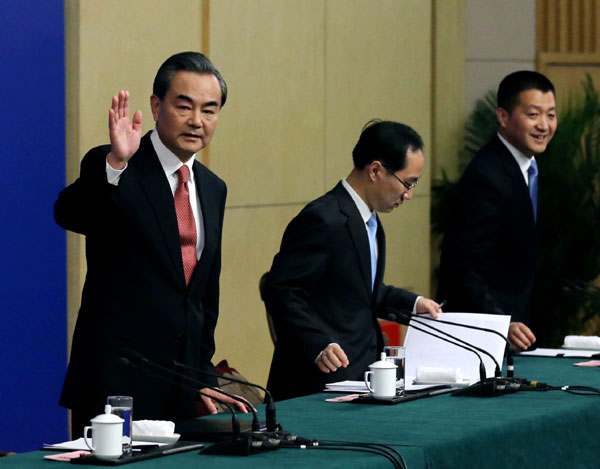 Chinese Foreign Minister Wang Yi greets reporters at a press conference in Beijing March 8, 2016. [Kuang Linhua/China Daily]
Foreign Minister Wang Yi held a press conference on the sidelines of the "Two Sessions" on Tuesday. China's foreign policy on international and regional issues is in the limelight as the country's lawmakers examine the 13th five-year plan.
Here are some of the highlights from Wang's remarks.
On China-Africa cooperation
China will deliver investment and aid promises made to help Africa at last December's Johannesburg Summit of the Forum on China-Africa Cooperation (FOCAC) despite global economic slowdown.
Chinese President Xi Jinping announced at the FOCAC that China would carry out ten cooperation plans between China and Africa.
"The most salient feature of the plans is a transition from a trade pattern dominated by resource products to one featuring more investment and industrial cooperation," said Wang.
By encouraging more Chinese companies to invest in Africa, China wants to help the continent accelerate its industrialization and boost its capacity for growth.
On China's Myanmar policy
The relations between the two countries will not be weakened by the changes in Myanmar's domestic situation.
The National League for Democracy (NLD), led by Aung San Suu Kyi, in Myanmar has kept friendly contact with China.
"Our mutual understanding and trust has been growing," Wang said.
On China-ASEAN relations
China wants to build an even closer China-ASEAN community of common destiny for mutual benefits.
China sees ASEAN as a preferred partner in terms of the "Belt and Road" cooperation, FTA cooperation, regional cooperation and maritime cooperation.
China will work to promote the construction of trans-Asian railway network so that people in China and the ASEAN countries will find it easier to visit each other.
At the same time, China wants to ensure an upgraded version of the China-ASEAN FTA, actively advance the RCEP negotiation and try to wrap it up before the end of this year.
On China-Europe relations
China has always regarded Europe as an important pole in a multi-polar world, and Europe has come to view China's development and rise in a more objective and sensible way.
China wants to make concrete efforts with Europe to advance their partnership for peace, growth, reform and civilization, which is their "shared commitment in the 21st century."
On China-Japan relations
Wang summarized Japan's official attitude toward China as "double dealing", and he urged Tokyo to give serious thought and make the right choice upon the question of taking China as a friend or foe. Read More
On one hand, the Japanese government and leaders say all the nice things about wanting to improve the relations. On the other hand, they are making troubles for China at every turn, Wang said.
For the China-Japan relations, the underlying problem is that the Japanese politicians in power have wrong perceptions about China.
On consular protection
The Foreign Ministry will take measures, including enhancing security awareness among those traveling, setting up police-civilian cooperation centers in more countries, and shortening the response time, to protect Chinese people overseas. Read More
On China-Middle East policy
China's policy on the Middle East is to facilitate peace talks with an objective and impartial attitude, instead of seeking a sphere of influence or proxies.
On China-Russia relationship
Sino-Russia relations are mature and stable and will not be weakened by particular incidents or temporary factors. Read More