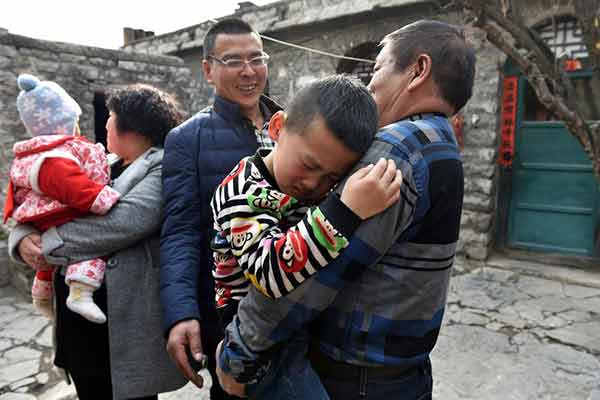 Dong Jianguo (center) looks as his seven-year-old son weeps in his father's arms at Xiadongzhai village, Pingding county, North China's Shanxi province, Feb 24, 2016. The little boy couldn't help crying after knowing his father will leave home for work. [Photo/Xinhua]
BEIJING - The Ministry of Civil Affairs has inaugurated a new office devoted to protecting minors, especially China's tens of millions of children "left behind" by their migrant worker parents.
The office, under the ministry's Department of Social Affairs, plans to assess and improve the management of databases for left-behind children in rural areas, according to a ministry statement.
The move follows a State Council guideline on left-behind children made public earlier this month.
While stressing parents' primary responsibilities, the guideline states that local governments and village committees should keep themselves well-informed of left-behind children within their jurisdiction and ensure they are properly cared for.
The new office will be responsible for establishing an inter-ministerial joint conference system to coordinate work among different government branches.
It could help to integrate civil affairs resources including social assistance, welfare, social groups and communities, according to the statement.
More than 60 million children are considered left-behind in China, and a lack of proper arrangements for many has led to a number of heartbreaking situations, such as the suicide last year of four children in southwest China's Guizhou Province.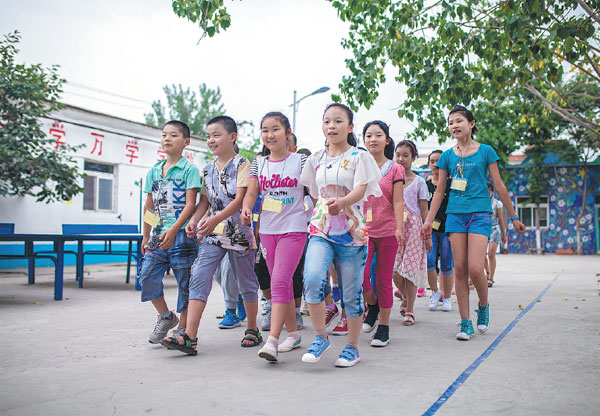 Migrant children learn a tough lesson Students attend military training at Beijing's Dandelion School, a nonprofit institute for the children of migrant workers, in July. Zheng Liang / For China Daily