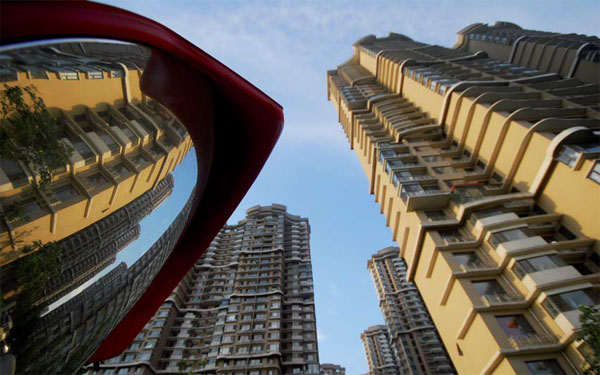 Real estate investment growth fell to 2 percent in the first 10 months of this year, acting as a drag on GDP growth. [Provided to China Daily]
Guideline from the central govt would keep new residential streets open to public
The Supreme People's Court responded on Tuesday to a new urban planning guideline issued by the central government saying that roads in new residential communities should be open to the public rather than reserved for the private use of a community's residents.
The guideline, issued on Sunday, sparked heated debate, but the court noted in a news conference that legislative action would be needed before it could be enforced.
Under the guideline, new open residential communities would be joined with public roads, and communities that are currently closed to everyone but residents would gradually open.
The plan immediately triggered a debate. Many residential roads are currently the property of homeowners, who argue the new move may not be in line with the Property Law.
Cheng Xinwen, chief judge of the top court's civil case tribunal, said that some parts in the proposed policy aiming to solve problems associated with increasing urbanization and the explosion of city size, still require legislation to be taken into practice.
"The closed residential communities have not adapted to urbanization across the country, and the new age is pushing us to do urban planning with new concepts," Cheng said.
The guideline, in Cheng's view, meets the Five Development Philosophies - innovation, coordination, green, open and sharing - proposed during the Fifth Plenary Session of the 18th Central Committee of the Communist Party of China in October. "It also follows the world trend," he said.
"We will pay close attention to the guideline and properly deal with disputes brought by the change," he added.
Yang Baojun, deputy head of the China Academy of Urban Planning and Design, said the guideline will face some practical problems that will require step-by-step solutions from the government.
"The closed residential communities are not good for saving land resources. They block the connection between public roads and residential roads," Yang said. "We liked living in such closed communities in the past because we thought they were safe. But the security concern can be alleviated by streamlined city management."
Chen Zhenggao, minister of housing and urban-rural development, said that the plan will contribute to urbanization by improving urban management and solving "urban diseases" such as traffic congestion and air pollution.
"The guideline will make cities much safer and more harmonious, as well as providing more convenience in people's daily lives," Chen said.
The guideline comes on the heels of December's Central Urban Work Conference, the first such meeting to address the issue since 1978.
Zheng Jinran contributed to this story.