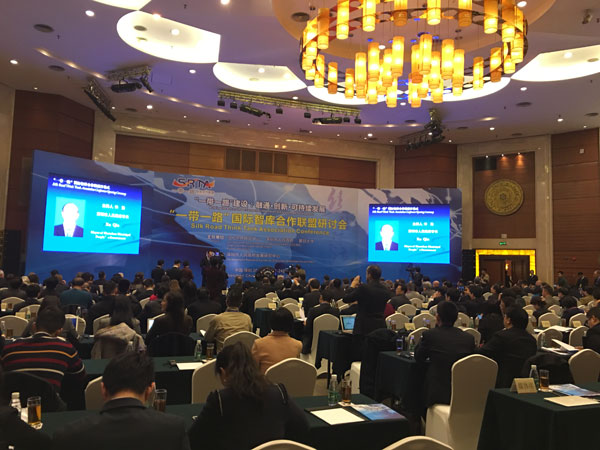 More than 60 foreign delegates attend the International Silk Road Think Tank Association Conference on Tuesday in Shenzhen. [Photo by He Na/chinadaily.com.cn] 
The International Silk Road Think Tank Association was launched on Tuesday in Shenzhen, Guangdong province, to provide sustained intellectual support for China's Belt and Road Initiative.
Extensive exchanges between think tanks along the old trade routes will deepen people's understanding for the development initiative, and avoid misunderstandings between countries, which have different policies and concerns, said Guo Yezhou, vice-minister of the International Department of the CPC Central Committee.
So far, 34 countries have signed memorandums of cooperation or other cooperative agreements with China and others are being negotiated.
"China vowed to enhance the dialogue and cooperation of think tanks along the trade routes and provide more chances for exchanges between these institutes and academies," Guo said at an association conference.
"Think tanks along the trade routes can exchange their research and carry out joint research. Their research results will be handed to governments and enterprises, and help the projects to be carried out on schedule," Guo said.
The conference attracted about 60 foreign delegates, including former top leaders of the countries along the Silk Road Economic Belt and the 21st Century Maritime Silk Road, directors of major think tanks and research centers, and scholars and experts.
Roza Otunbayeva, former president of Kyrgyzstan, attached great importance to international think tank cooperation.
"Think tanks play positive roles in helping solve difficulties," she said. "Research institutes and think tanks in Kyrgyzstan are willing to participate in the initiative research with think tanks from other countries."
Alfred Gusenbauer, former chancellor of Austria, said the state of the world's economy shows the initiative was proposed at just the right time. Its success will help countries along the trade routes find economic growth that is not limited to one single channel, he said.
Norodom Sirivudh, chairman of the board of directors for the Cambodian Institute for Cooperation and Peace, noted that governments are often busy with daily governance, so think tanks "can bring some ideas and concerns to the governments as a very good supplement."
Tasked with connection, innovation and sustainable development, the SRTA conference was sponsored by the China Center for Contemporary World Studies, the Shenzhen Municipal Government and Fudan University.