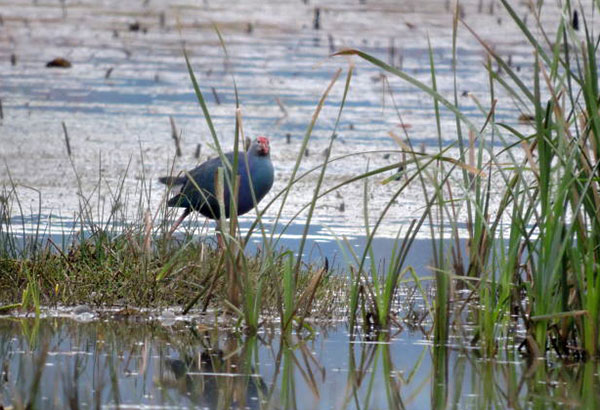 A purple swamphen is spotted at the Puzhehei wetland in Qiubei County in Southwest China's Yunnan province on February 18, 2016. [Photo provided to chinadaily.com.cn]
KUNMING - Three purple swamphens have been spotted at the Puzhehei wetland in Qiubei County in southwest China's Yunnan Province, according to the local forestry bureau on Monday.
With blue and purple plumage, a red beak and yellow feet, the purple swamphen is considered by many to be the most beautiful water bird in the world.
"This is the first sighting of the purple swamphen at Puzhehei," said Ji Jun from Qiubei Forestry Bureau. "Though widely distributed throughout the world, they have only been found in a few areas in China's southwest Yunnan Province and southeast Fujian Province."
The Puzhehei wetland has seen its bird population grow under a 20-million-yuan ($3 million) investment from Qiubei County Government to protect the environment.
The area has more than 140 bird species, accounting for 10 percent of the country's total bird species.