Editor's Note: Gao Xiang is director of policy and regulation for the State Administration of Foreign Experts Affairs, which is responsible for introducing overseas talent to China.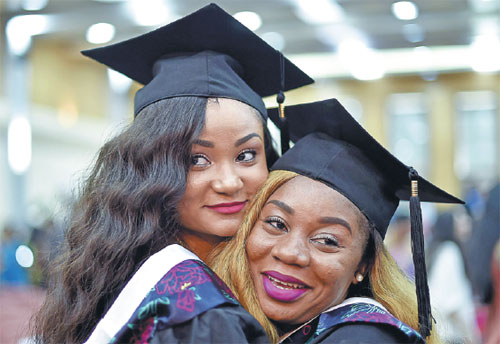 Foreign graduates hug each other at a graduation ceremony at Tianjin Medical University in July. More than 160 foreign students from 19 countries graduated from the university last year.  Yue Yuewei / Xinhua
Q: In addition to streamlining the green card process and expanding the pool of candidates, the document released by the central government on Thursday highlights China's attention to overseas talent and its contribution to the country. Does it really help to attract more overseas talent to China by lowering the threshold for obtaining a green card?
A: Offering permanent residence is an important way to attract overseas talent, not only in China, but also in other countries. Green cards offer nearly the same rights of Chinese to foreigners. It makes it significantly easier for foreign talent to stay in China for innovative work or to start a business.
According to an investigation we conducted a few years ago, more than 70 percent of foreigners working in China said they would like to have a green card. However, back then, due to several reasons, many didn't know how to apply or could not meet the high requirements. Also, many who did obtain a green card complained about the limited recognition in society. This will soon be changed.
I believe more foreign talent will be eligible to apply, and they will find it more useful and convenient to live and work in China.
Q: The document also mentions the role of the market when reviewing a green card candidate, such as salary, taxation and social credits. It even mentions a point-based system. This gives the market great weight in judging whether someone qualifies for a green card. Do you see other countries also adopting the same approach? And what does this mean for foreign workers in China?
A: In Australia, New Zealand and the United Kingdom, we have seen the implementation of a point-based system. We have also launched a pilot project in Shanghai. For foreign talent, I think it means that more will be eligible to apply for a green card. Before, only few employers could recommend their foreign employees for a green card, such as State-owned enterprises or universities. And it had to be a foreigner with a senior position. This time, the document plans to abolish the requirements on the type of employment and job title.

Q: Another highlight is that "green card holders should be included in local population management systems and be offered services such as language training, employment and legal assistance, so as to integrate them into society better and faster". Is this the first time such an issue has been addressed?
A: Yes, it is the first time to mention this issue in such an important document. It shows the adjustment of the government's role from management to providing service. Based on other countries' experiences, foreign workers with green cards can be motived to engage more if they can integrate into society. We don't simply want them to come here, we also want foreigners to stay and contribute to China's development in a win-win manner.
Q: The document also mentions that there will soon be a management system to monitor green card holders' work, taxation and social credits. What does this mean? Which government agency will take the responsibility for this work?
A: It will be a joint effort from many related government bodies. It will not be a difficult task. By taking advantage of big data, we can have a better and efficient management system for green card holders. For card holders who seriously violate local law or regulations, or provide fake information when applying for a permanent resident's permit, the green card can be revoked.