Guideline document calls for increased supervision, discourages bizarre buildings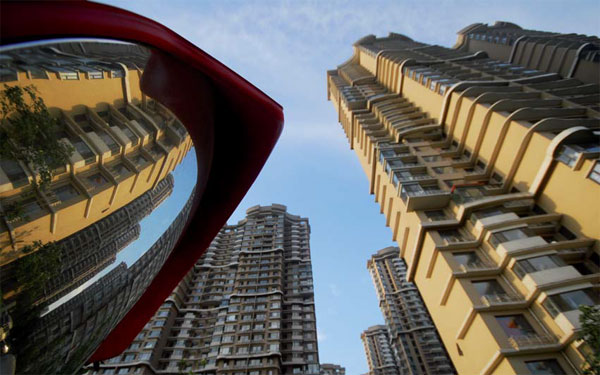 Real estate investment growth fell to 2 percent in the first 10 months of this year, acting as a drag on GDP growth. Provided to China Daily
China released a guideline on urban planning on Sunday in a bid to tackle the problems associated with increasing urbanization and the explosion of city sizes.
Cities will no longer be allowed to grow beyond what their natural resources can support, and odd-shaped buildings will be forbidden, according to the guideline from the Communist Party of China Central Committee and the State Council, China's Cabinet.
The document comes on the heels of December's Central Urban Work Conference, the first such meeting to address the issue since 1978, when only 18 percent of China's population lived in cities. By the end of last year, the figure had reached about 50 percent.
Increased urbanization has brought with it several problems, including pollution, severe traffic congestion and compromised public safety. Poor urban planning has also led to issues such as overtaxed power distribution networks.
To combat such problems, the document calls for greater oversight from city legislative bodies and harsher punishments for anyone contravening urban planning regulations.
Any modification or revision of local urban planning policy should also be approved by legislators first, the document says.
Bizarre architecture that is not economical, functional, aesthetically pleasing or environmentally friendly will be forbidden, while construction techniques that generate less waste and use fewer resources, such as the use of prefabricated buildings, will be encouraged, according to the document.
It projected that in 10 years, 30 percent of new buildings will be prefabricated.
To further monitor urban sprawl, governments should use a variety of methods including remote satellite sensing to locate buildings that violate existing urban planning policies.
Within five years, a map of all such illegal buildings across China's cities will have been drawn up and action taken against violators, the document said.
Efforts will also be underway to link up urban planning policy with criminal law.
"If they could link up, that would deter the construction of illegal buildings that are against planning policy," said Yang Baojun, deputy head of the China Academy of Urban Planning & Design on China National Radio.
No detailed schedule for such linking up has been disclosed, Yang said.