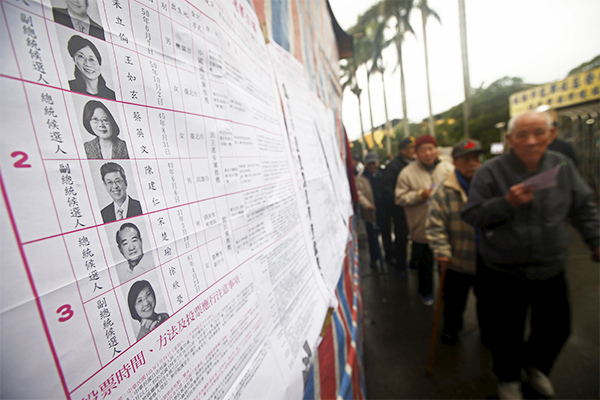 Voters queue next to a poster of candidates to cast their ballots at a polling station during general elections in Taiwan, Jan 16, 2016. [Photo/Agencies]
TAIPEI  -- Tsai Ing-wen, candidate of the Democratic Progressive Party (DPP), won Taiwan's leadership election on Saturday, according to the final result of ballot counting released by the island's election commission.
In a speech at the Kuomintang (KMT) headquarters in Taipei, Tsai's rival KMT candidate Eric Chu acknowledged his failure, saying he would take responsibility and resign from the post of KMT chairman.
Taiwan residents began voting in the island's leadership and legislature elections at 8 a.m. on Saturday and the polls closed at 4 p.m.