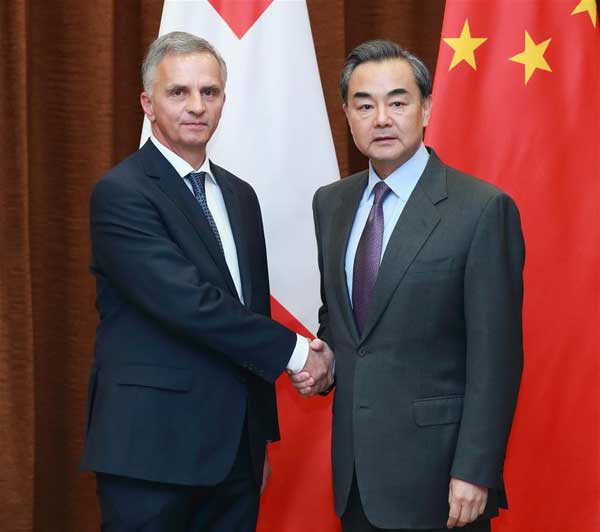 Chinese Foreign Minister Wang Yi (R) meets with Swiss Federal Councillor and head of the Swiss Federal Department of Foreign Affairs Didier Burkhalter in Beijing, capital of China, Jan. 15, 2016. [Photo/Xinhua]
BEIJING-- China and Switzerland pledged to strengthen cooperation in battling corruption during the visit of Swiss Foreign Minister Didier Burkhalter to Beijing.
The two sides also agreed to beef up cooperation in innovation, the economy, global financial governance, and people-to-people exchanges as Chinese Foreign Minister Wang Yi held talks with Burkhalter Friday.
"We applaud Switzerland's position that it will not offer safe havens for fleeing corrupt officials," Wang said.
China has invited Switzerland to take part in this year's G20 preparation work on anti-corruption and finance, according to Wang. This year's G20 summit will be held in China's eastern city of Hangzhou in September.
The two countries will also hold dialogues on anti-corruption efforts, strengthen cooperation in repatriating fugitive suspects and illegal assets, and strive to ink a deal on judicial assistance in criminal matters.
The two sides agreed to take advantage of Switzerland's strength in innovation and China's strategy of innovation-driven growth, according to Wang.
They also decided to work jointly on the "Belt and Road" initiative, which was proposed by China in 2013 to connect the vibrant East Asian economic circle and the developed European economic circle to tap market potential.
The two foreign ministers also pledged to step up efforts to facilitate visas to promote people-to-people exchanges.
More than one million Chinese citizens traveled to Switzerland last year.
The two sides agreed to strengthen communication and coordination in regional and international affairs, including counter-terrorism and cyber security.
Hailing the sound development of bilateral ties over the past 65 years, featuring equality, innovation and a win-win spirit, Wang said he expects the two countries to enhance mutual trust and push all-round cooperation to a higher level.
Burkhalter said Switzerland attaches great importance to ties with China and stands ready to cooperate more in fields such as finance, technology, innovation, education, water resources and the G20.
Chinese State Councilor Yang Jiechi also met with Burkhalter on Friday afternoon.