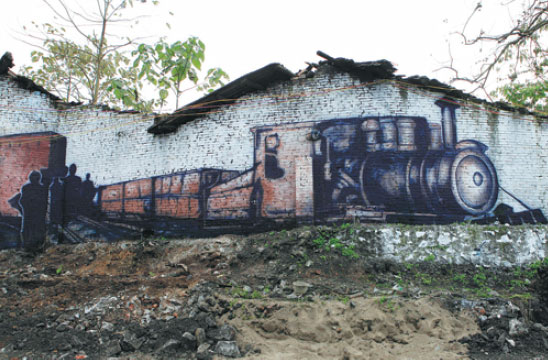 The wall of an old building is covered by graffiti in Heshan.
In an effort to restore the environment and create jobs, the government decided to transform the core mining area of 264 square kilometers into a mining museum and park, where residents can recall the city's past and give visitors a glimpse of its former life and culture.
"We need to grow a green industry for revenue that will continue to help restore our environment," said Mo Lian, Party chief of Heshan. "Developing tourism is the best answer."
Tourist facilities have been planned for the area's more than 300 mining sites, some of which date back more than 100 years, and its more than 100 km of underground mining tunnels. A 28-km rail section including the flowery portion, Mosaid.
Qin Xiaodan, an official from Heshan's tourism bureau, said the government has invested nearly 10 million yuan ($1.5 million) to transform the flowery rail tunnel. Plants and flowers were grown along the tracks spanning six meters from end to end, supported by colorful arches.
The pedal-powered vehicles run along the tracks at a maximum speed of 30 km/h have been introduced to attract leisure visitors. Two tourists trains also are planned for operation by early February, Qin said.
Since its completion in late December, the rail has attracted nearby visitors, but the local authority aims to attract more from farther away.
Liu Sunying, 25, who lives in Gucheng village near the rail, said it provided a perfect backdrop for her wedding photos.
"I couldn't think of any other place that could serve as better setting," Liu said. "The rail is both real and romantic. It reminds me of my childhood and hometown. It has taken on a new life, much as I have after getting married."