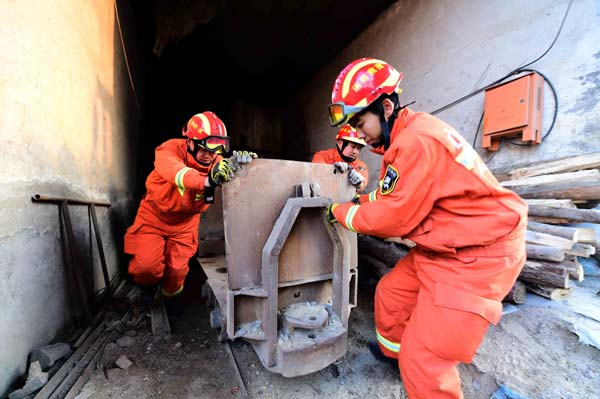 Rescuers clear the pithead of the collapsed mine in Pingyi County, east China's Shandong Province, Dec. 26, 2015.[Photo/Xinhua]
JINAN - One person died and 17 remain trapped, after a gypsum mine collapsed on Friday in east China's Shandong Province, the local government said.
A total of 29 people were working underground when the mine collapsed at about 8 a.m. in Pingyi County, Shandong Province. Four managed to escape.
Six people were rescued on Friday. One more miner, whose leg was trapped by a boulder, was rescued early Saturday morning.
One of the rescued is in intensive care in a stable condition. No one else sustained serious injuries.
Nearly 700 rescuers are trying to reach the trapped miners in two locations by using existing shafts that were damaged by the collapse.
Rescuers are also using heavy machinery to gain access to one of the locations.
The structural instability of the tunnel and falling rocks are hindering the rescue, according to the rescue team.