Mainland visits likely to jump by 40 percent in 2016, according to travel agency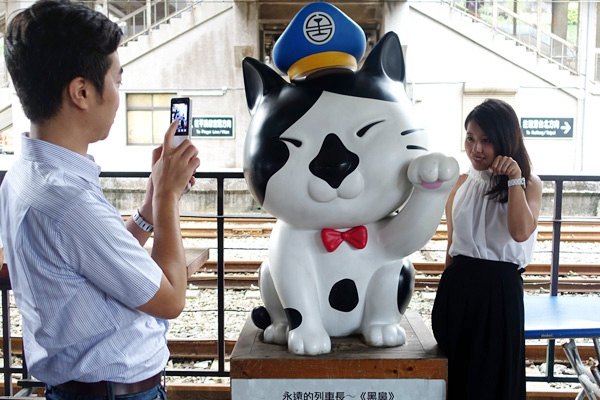 Two visitors from the mainland with a statue of a cat at the Houtong Cat Village, a village in New Taipei, Taiwan. [Photo by Du Lianyi / China Daily]
Taiwan is an increasingly popular destination for mainland tourists drawn to the island by its beautiful vistas, vibrant provincial capital, culture and cuisine.
Mainland tourists are the largest source of Taiwan's inbound tourism, and they made nearly 2 million visits in the first half of the year, according to official statistics. During the "golden week" holiday in early October, a peak season for tourism, more than 90,000 mainland tourists visited, a jump of more than 20 percent from the same period last year.
"Neighboring countries and regions are all popular destinations, including South Korea, Japan, Hong Kong and Taiwan," said Ren Guangyu, deputy general manager of China Youth Travel Service's Hong Kong, Macao and Taiwan department.
"Although its ranking in different peak seasons varies, Taiwan always remains one of the top 10 outbound choices of mainland tourists," Ren said. "Taipei is one of the most familiar cities to mainland tourists now."
He predicted that mainland visitors to Taiwan are likely to increase by 40 percent in 2016, drawn by the local cuisine and culture, which he recommended Taiwan authorities highlight in their tourism promotions. More than 60,000 mainland tourists visited Taiwan in 2014 with the help of Ctrip, China's largest online travel service provider by market share, according to figures from the company. The number was expected to surpass 100,000 by the end of the year.
Tourism has boosted cultural and economic exchanges between the Straits, said Dai Yu, Ctrip's marketing director.
The mainland and Taiwan broke off communications in 1949. Cross-Straits travel resumed in the late 1980s and has increased rapidly since 2008, when direct mail, transport and trade links resumed and tourism restrictions were eased.
Taiwan opened its doors to group tourists from the mainland in 2008 and to individual tourists in 2011. Now, 311 travel agencies are allowed to organize group travel groups to Taiwan and residents from 47 cities can apply to travel to there as individuals. The maximum number of monthly individual visitors has increased from 500 to 5,000.
Taiwan's tourism and related industries are working to improve facilities and services to attract mainland tourists. Hotels such as Fullon Hotels & Resorts are expanding to increase their capacity to host travelers, Xinhua News Agency reported.
Ren said he would urge Taiwan to introduce more tourism attractions with unique features outside of Taipei, the provincial capital, in places such as Kenting in southern Taiwan. "They should also focus on their different aspects of Chinese culture," he said. "Tourism is all about experiencing differences."
While most mainland tourists to Taiwan are group travelers, aged 40 and older, tourists from first-tier cities, such as Beijing, Shanghai and Guangzhou, prefer individual visits, Ren said.
"Instead of sightseeing, they are interested in unconventional experiences," Ren said. "Travel service providers in Taiwan can develop more featured travel routes to meet their demands."
Contact the writer through suzhou@chinadaily.com.cn