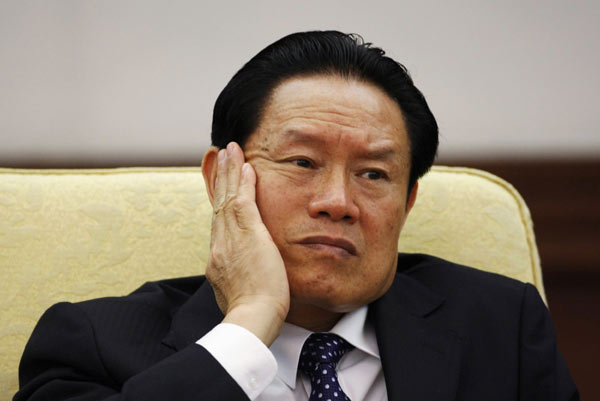 Former Chinese security chief Zhou Yongkang is one of the high-ranking officials that fell from grace during China's anti-corruption campaign.[Photo/Agencies]
BEIJING -- "Fanfu", or anti-corruption, has been found to be the most popular word in discussions of domestic issues in 2014 for Chinese, said a language report released by the Ministry of Education on Thursday.
Meanwhile, "mahang", which refers to Malaysia Airlines, was used most frequently when people were talking about international issues.
Since the first such report in 2006, a total of 5,264 new words have been picked for study, a statement from the ministry said, adding these words actually were records of social development.
Nearly half of the new words surveyed have three syllables, thanks to the popularity of coining words with certain patterns in recent years.
For example, more than 330 of them are coined with "zu," or group, as suffix, while for words with "wei," or micro, as prefix, there are more than 210 in total, according the report.
In Chinese language, the group who commute between home and office are usually called "shangbanzu", and microblog is translated as "weibo".
Hou Min, a professor with the Communication University of China, said about a quarter of the new words were coined in this way.
However, around one third of the new words in one year will hardly be used in the following year because many of them are made to depict incidents or new concepts, according to Hou.
According to the report, the study of the language used on the Internet brought interesting results. For instance, in the past 10 years, "shehui", or society, and "wenti", or question, were among top words for male bloggers, while "nvren", or women, and "ai," or love, were most frequently used by female users.
The report added that the need to deal with the vulgarity in words used on the Internet was gaining support from the public.