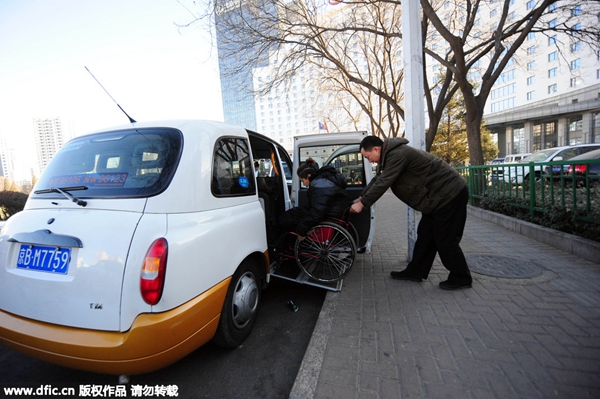 A disabled person gets on a barrier-free cab in Beijing in this 2013 file photo. [Photo/IC]  
Beijing will add 800 more barrier-free cabs to its taxi fleet in 2015 to better serve the city's disabled people and those with walking difficulties, transport authorities have announced.
The move also marks the first increase of the city's total taxi number in 12 years.
Currently, Beijing has 70 barrier-free cabs, a legacy from the 2008 Beijing Olympic Games. This year, these cabs will be replaced in addition to 800 new ones, an official with the Beijing Municipal Commission of Transport told the Beijing Daily on Tuesday.
In a barrier-free taxi, the assisted seat can be rotated so that a disabled person can get in and out of the car with ease. It also offers more space in the back of the car and provides easier access for wheelchairs.
Disabled passengers in downtown areas need to call to reserve them 2 hours in advance. Those in the suburbs need to call one day in advance. Increasing complaints have been lodged over the small number of barrier-free cabs, which are unable to meet demand.
There are more than 80 million people with disabilities in China, but they are rarely seen in the streets because of a lack of accessibility.
In Beijing, where recent infrastructure construction has placed more emphasis on handicap accessibility after the 2008 Olympic and Paralympic Games, facilities such as blind-friendly sidewalks are often blocked or unusable.
Under such circumstances, the increase of barrier-free cabs is believed an important step to helping the disabled. According to the commission, the number of barrier-free cabs will increase to 2,000 by 2020.
The total number of Beijing's cabs reached 66,000 in 2003 and has not changed since because of limited road space and pressure over emission control. Cab transport makes up around 7 percent of the city's entire public transport volume, much higher than 4 to 5 percent in other countries.
In 2013, a regulation on cab number control came into force, announcing flexible cab numbers based on market demand beginning in 2015.