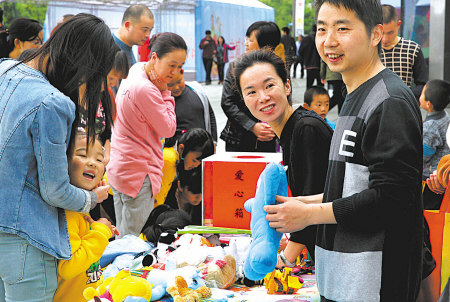 A group of children from a kindergarten in Guangsha community of Jiangbei district and their parents take part in a charity flea market on the Jiangbei Wanda Plaza at the end of April 2014. The money raised was donated to elderly persons of no family in the community. Photo provided to chinadaily.com.cn
Chinese charities are working hard at improving transparency, but most still need to do far more, according to an independent academic study.
Research has been conducted by the Center for Public Participation and Support Studies of Peking University since last March, the first time an independent organization has examined charities in China.
Transparency of some 93 organizations was examined, achieving an average of 35.49 points out of 100, among which the highest was 83 while four groups received nil.
The findings echoed reports by the China Charity and Donation Information Center, which comes under the Ministry of Civil Affairs.
China has struggled with a series of charity scandals and a decline in donations as the public questions transparency and the ability of management in recent years.
The study also found that only eight organizations passed 60 points out of a total 100, showing an extremely low pass rate of 8.6 percent.
The 93 charities examined were all at the provincial level. They covered 31 Red Cross Societies, 31 branches of non-benefit charity groups and 31 public fund-raising foundations with high net assets.
Research also revealed that openness of fundraising information is far better than that of financial information.
By the end of 2013, there were about 541,000 charity social organizations, 286,000 charity social groups and 3,496 charity foundations in China, said Li Yuanyuan, executive director of the center.