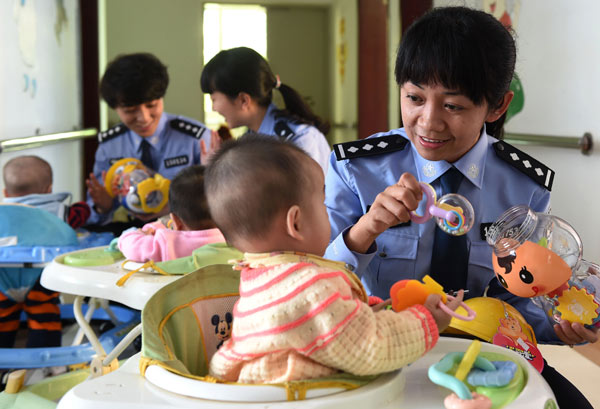 Police officers visit babies, rescued from kidnappers, at an orphanage in Kunming, Yunnan province. Kunming police saved 11 babies after breaking up a gang of kidnappers that targeted babies in November. LIN YIGUANG/XINHUA
A father sold his three sons for 30,000 yuan ($4,797) after contacting potential buyers before they were even born.
The case in Zaoyang, Hubei province, was used by judges from the top court to highlight the increasing problem of parents who sell their children.
The number of such cases has grown over the past few years, even though the total number of human trafficking offenses has declined sharply, according to the judges.
The number of cases of children being abducted to make money has been falling since 2012. However, cases where parents or other close relatives are involved in the trafficking have become more common, Zhao Junfu, a judge at the criminal department of the Supreme People's Court, said on Friday.
The courts dealt with 7,719 cases relating to the trafficking of children and women from 2010 to last year and sentenced 12,963 people, according to official figures.
Of those convicted, 7,336 were jailed for more than five years, "which indicates the country's tough attitude toward the crime", Zhao said.
The number of human trafficking cases fell from 1,918 in 2012 to 978 last year.
"But we are finding that some parents are benefiting from the sale of their own kids," Zhao added.
The Zaoyang case involved a father called Xing Xiaoqiang who trafficked his twin sons to a local couple in 2011, and sold his third child two years later.
A court in the city sentenced him to 10 years in prison and fined him 10,000 yuan.
"We find that some parents like Xing are not forced to sell their kids," Zhao added. "Instead, they treat the children like goods, aiming to earn money in this way. Such offenses must be cracked down on severely."
Du Guoqiang, a senior judge in the department, said the scale of the problem became clear when the court realized that some missing children were never found, and parents were failing to report the disappearance of their children to the police or judicial authorities.
Du said the offense happens most often in rural and developing areas. The court is working with child protection agencies to develop more effective ways to tackle the problem and update a guideline designed to prevent abductions that was issued in 2010.
Sun Jungong, the top court's spokesman, said: "The country's courts will continue to improve the protection given to children and women, and the judicial policies and articles will soon be amended to reflect the seriousness of the offense.
"In addition to fighting the trafficking of children, the courts will also focus on the abduction of women via the Internet this year."