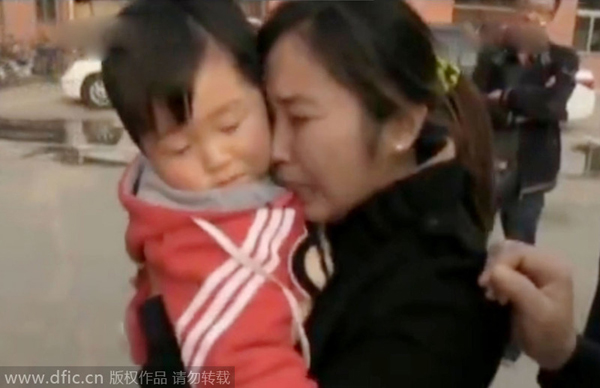 A woman cries when finding her lost child in this video grab. [Photo/IC]
Shandong police have rescued 37 infants after busting seven human trafficking gangs in the past two months, according to a CCTV report.
A total 103 suspects have been detained, said Xie Xinxi, director of Jinan railway police department.
"The gangs immediately sold the infants after they were born in underground delivery wards. A girl was sold for about 60,000 yuan ($9,677.42) while a boy went for 80,000 yuan," Xie was quoted as saying.
The gangs were also said to buy infants from rural areas in Sichuan and Yunnan provinces and sell them in Shandong and other coastal provinces in past months, Xie said.
"Only one infant girl has been reunited with her own parent in the wake of a DNA test. The remaining 36 may not be able to return to their parents as their mothers, who mainly come from rural areas, sold the infants of their own accord," Xie said.
All victims are now in local children's welfare houses or foster homes, he said.
According to Xie, most of the infants are in poor health because they were not been well looked after and even maltreated by the traffickers.
Seven have been identified as being HIV positive or diagnosed with syphilis and other sexually transmitted diseases, as infected mothers passed on diseases to their fetuses while pregnant, Xie said. Many of the infants, living in a poor hygienic environment, were only fed instant noodles, he added.
In another operation, police detained seven suspects and rescued an infant after swooping on a delivery room hidden in a derelict factory on the outskirts of Yanzhou earlier this month. Several pregnant women were found in the underground facility.
Liu Yang, a local railway police officer, said the underground ward might have been operating for six months. Many pregnant women were found to have been picked up at Yanzhou railway station and sent to the hidden room since July.
Chen Shiqu, director of the human trafficking task force under the Ministry of Public Security, said traffickers have used new tricks to kidnap and sell children to avoid police crackdowns in recent months.
"Directly abducting and selling newborns is one of the new methods that help the traffickers to avoid the police crackdown," he told media.
Chen urged police across the country to redouble efforts to fight the crime.