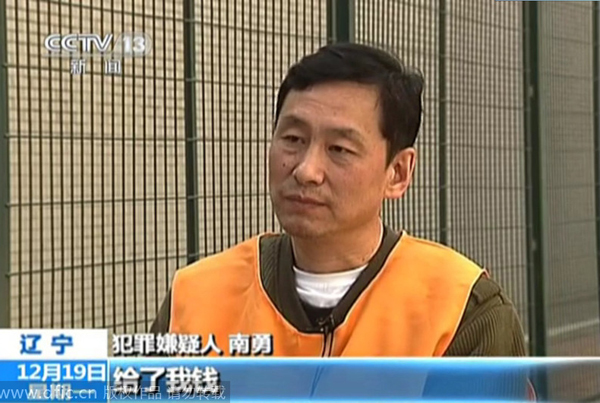 China's former soccer chief, Nan Yong, talks to reporters at prison on Dec 19, 2011. [Photo/IC]
Rather than living a miserable life behind bars like some fellow inmates have done, China's former soccer chief, Nan Yong, has rejuvenated himself as an inventor and writer during his prison term, Chinese media reported on Tuesday.
Nan, who was sentenced to 10 years and six months in prison in June 2012 after a nationwide crackdown on match-fixing and corruption in soccer, has invented four devices with patents granted by the State Intellectual Property Office, according to Web portal qq.com. He has also published a novel while serving his sentence, it said.
SIPO's online database shows four patents approved under Nan's name by Tuesday, including two devices related to soccer training-a device for shooting training and a portable goal gate.
"To improve the shooting power and accuracy of soccer players, this device, which features pressure-sensing pads installed on the gate, could mark the goal placement on the gate area while rating the shot's power, to guide players to improve their skills," Nan noted on the patent specification for the shooting equipment.
The portable goal gate is made of lightweight, detachable parts and could be transported anywhere to be reassembled for soccer games and training at low cost, according to the patent specification.
Nan's four patent applications-the other two are a mobile phone kickstand and a device to control multiple desktop computer monitors-were submitted last December and granted this year, according to SIPO.
He has also been concentrating on writing in prison and published a science-fiction story last year about a lonely priest under his pseudonym, Wen Yan, Beijing Youth Daily reported.