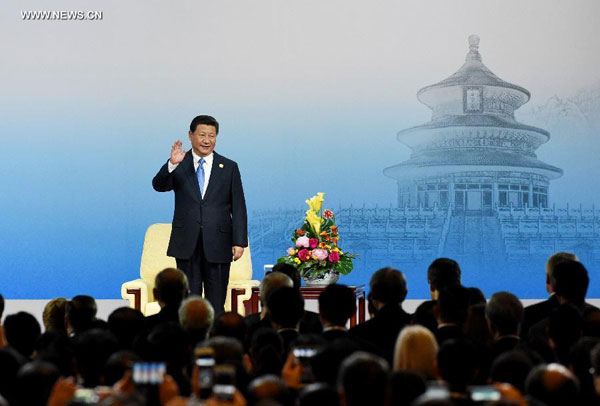 President Xi Jinping attends the opening ceremony of the 2014 Asia-Pacific Economic Cooperation (APEC) CEO Summit in Beijing, capital of China, Nov. 9, 2014. [Photo/Xinhua]
Speaking of the Free Trade Area of the Asia-Pacific (FTAAP), the president suggested the region remain committed to open regionalism while endeavoring to initiate the FTAAP.
Economies should "work for new economic institutions and regional cooperation architecture that are open, so that the door of the Asia-Pacific will always be open to the entire world," he said.
As the fastest growing region in the world, Asia-Pacific accounts for 40 percent of the global population, 57 percent of the global economy and 48 percent of the global trade.
Regarding the development of the world's second largest economy, Xi said that China's economy has been growing steadily as a "new normal" of it has emerged.
Under the new normal conditions, he said, China's economic growth has become more stable and been driven by more diverse forces while the Chinese economic structure has been improved and upgraded, heralding a more stable development prospect.
"The intensity of our endeavor to comprehensively deepen reform will determine whether we will successfully adapt ourselves to the new normal," Xi told his audience.
The president said that to comprehensive deepen reform, China needs to stimulate the market vitality, broaden the path for innovation, advance opening-up at a higher standard, as well as improve people's well-being and promote social equity and justice.
"Comprehensively deepening reform will not only liberate the productive force but also unleash the vitality of the society," Xi said. "It will serve as a strong driving force for China's economic and social development."
He pledged that China will stay focused on managing its own affairs well and endeavor to bring more benefits to the Asia-Pacific and the world.
China is ready to work with other countries in promoting the building of the "Silk Road Economic Belt" and the "21st Century Maritime Silk Road", pushing for the early operation of the Asian Infrastructure Investment Bank, and getting more engaged with regional cooperation, he said.
"As its overall national strength grows, China will be both capable and willing to provide more public goods for the Asia-Pacific and the world, especially new initiatives and visions for enhancing regional cooperation," Xi told the gathering.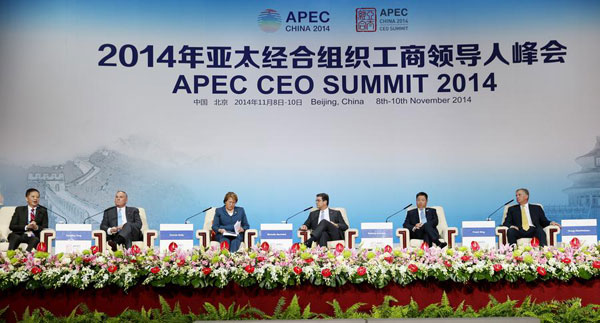 The CEO Summit of the Asia-Pacific Economic Cooperation (APEC) meetings opens in Beijing on Nov 9, 2014. [Photo/Xinhua]