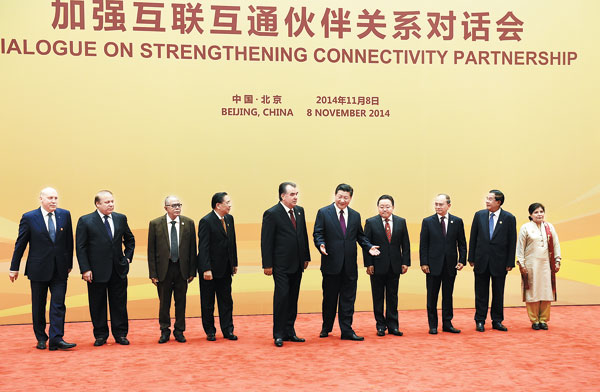 President Xi Jinping and leaders from neighboring countries pose for a photo before a dialogue on connectivity partnerships. [Photo by Wang Ye/Xinhua]
New financing vehicle designed to build better infrastructure in Asia
Thousands of years ago, a persistent man named Yu Gong planned to take decades to improve connectivity by removing mountains near his house with hand tools.
Today, Beijing can act much faster.
President Xi Jinping said on Saturday that China will contribute $40 billion to set up a Silk Road fund that will boost infrastructure and resource development while improving industrial and financial cooperation along the centuries-old Silk Road trading routes.
The goal of the fund is to "break the connectivity bottleneck" in Asia, Xi said during a dialogue in Beijing with leaders from Bangladesh, Cambodia, Laos, Mongolia, Myanmar, Pakistan and Tajikistan.
The Silk Road fund will welcome investors from Asia and beyond to actively take part in the project, Xi said ahead of the APEC Economic Leaders' Meeting, which is set to begin on Monday in the capital.
Chen Fengying, director of the Institute of World Economic Studies at the China Institutes of Contemporary International Relations, said $40 billion is a big number, but it's appropriate to boost Beijing's ambitious long-term strategy of reviving the land-based Silk Road concept to create a modern-day economic belt, while also developing the 21st Century Maritime Silk Road.
Economies vary in different regions in Asia, Chen said, and the less-developed ones need money to upgrade infrastructure.
China can benefit from a more prosperous and stable neighboring environment, she said.
The dialogue on Saturday followed the signing of a memorandum of understanding last month on establishing China's proposed $50 billion Asian Infrastructure Investment Bank. According to the Asian Development Bank, Asia needs as much as $730 billion annually for infrastructure investment before 2020.
Xi said it's a priority for China to upgrade connectivity in Asia and to develop rails and roads in neighboring countries.
But connectivity is not only about building roads and bridges, Xi said. It's also about systems and regulations, as well as personnel exchanges.
He called for countries to improve their communications about policies, facilities, ease of trade, financing and people-to-people ties.
To ease the shortage of professionals in connectivity, Xi said China would provide more than 20,000 training opportunities for neighboring countries in the next five years.
Cambodian Prime Minister Hun Sen said connectivity cooperation with China could narrow the development gap in various regions of Asia and help ASEAN to realize the goal of becoming an economic community in 2015.
Related
China to speed up construction of new Silk Road: Xi
Main port of call on old maritime Silk Road
Policy banks to lead Silk Road infrastructure fund
Maritime Silk Road transport network to center on Guangdong
Fuzhou hosts Silk Road film festival
Rebuilding the silk road