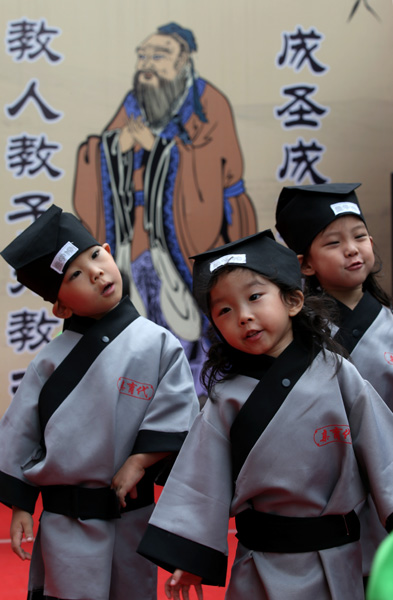 Children recite traditional literary works at a ceremony to commemorate the 2,565th birthday of Confucius at the QYD International Kindergarten in Beijing on Sunday. WANG JING/CHINA DAILY 
The institute at Victoria University in Wellington, New Zealand, east of the international dateline, was the first to kick off activities, while the one at the University of Hawaii was the last.
Felix Cain, a high school student from the United States, participated in the Beijing events.
"It was well-organized," said the 16-year-old. "I was fascinated by the traditional music and the Chinese way of keeping good health."
Cain said that she was impressed by the Chinese culture on exhibit and would like to get more exposure through such events in the future.
Kiraz Perincek Karavit of Turkey joined the events in Beijing, together with her husband and their 4-year-old daughter.
Now studying for a doctoral degree in history at Beijing Normal University, Karavit spoke in Chinese, saying that she has a special connection with the institutes.
"I have great interest in the history of the Silk Road, and the Confucius Institute enabled me to come to study and do research about it in China," said Karavit, who came to China under the Confucius China Studies Program in 2013.