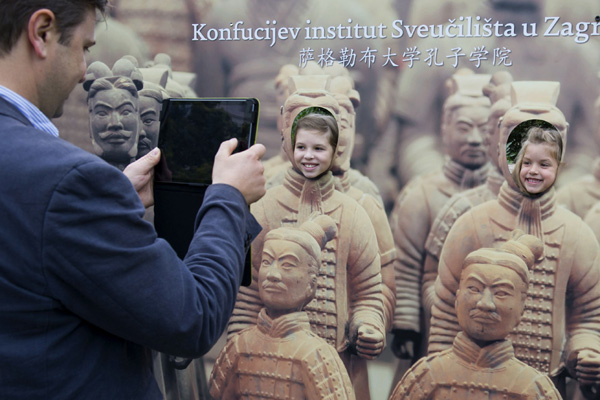 Two girls are photographed as terracotta warriors at the Confucius Institute at Zagreb University in Croatia. Confucius Institutes across the globe celebrated Confucius Institute Day on Saturday, marking the 10th year of the institute's first overseas branch. XINHUA 
Confucius Institutes applauded for promoting positive international ties
Hundreds of officials, international students and Beijing residents gathered over the weekend at Hanban, the Confucius Institute Headquarters, to celebrate the 10th anniversary of the organization.
During the past 10 years, the Confucius Institutes:
· Trained 200,000 Chinese-language teachers for more than 100 countries.
· Provided scholarships for 25,000 students from more than 110 countries to support them in achieving a degree in China.
· Supported 12 universities in eight countries to set up their own Chinese language education major.
· Compiled and published textbooks on the Chinese language written in 54 languages around the world.
The inaugural Confucius Institute Day featured a series of cultural events, including salons, lectures, dancing, Peking Opera and folk music. The events were open to the public.
Vice-Premier Liu Yandong attended the opening ceremony on Saturday, bringing congratulatory letters from President Xi Jinping and Premier Li Keqiang.
Xi noted in his letter that during the past decade, as Confucius Institutes have taught the Chinese language, they have played a key role in promoting positive relations with other countries.
Confucius Institutes not only belong to China, but also to the world, and the Chinese government and people will go on supporting their development, Xi said.
Li said in his letter that he hoped that Confucius Institutes will stick to Sino-foreign cooperation, improve teaching standards, deepen cultural integration and make greater contributions to global cultural diversity and harmony around the world.
Liu said at the ceremony that she hoped the Confucius Institutes in various countries will develop different characteristics to better meet local people's needs in learning the Chinese language and disseminating knowledge of the country's culture.
The first Confucius Institute was created in Uzbekistan in 2004 as part of a nonprofit organization aimed at teaching the language and spreading Chinese culture. So far, 465 Confucius Institutes and 713 Confucius Classrooms have been set up in 123 countries around the world.
On Saturday, all the institutes and classrooms worldwide held events to celebrate the anniversary while providing a cultural experience to millions of local people.