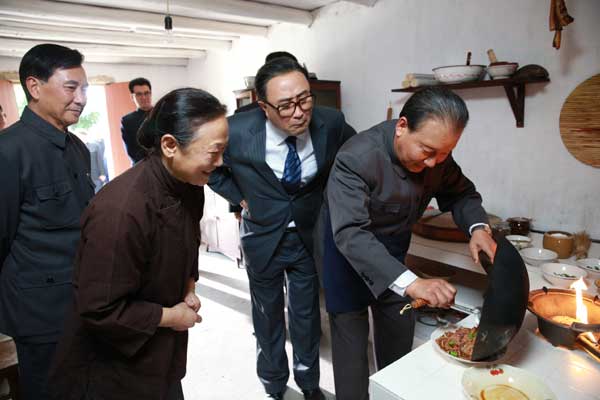 In a scene from the new production, Deng cooks a dish at a civilian's house. [Photo/China Daily] 
For the past two weeks, Deng Yuzhi, 82, has been revisiting an important part of his life.
At 8 pm sharp, Deng will tune in to State broadcaster China Central Television's latest TV series Deng Xiaoping at History's Crossroad.
Like audiences across the country, Deng Yuzhi has been completely mesmerized by the 48-episode drama on late leader Deng Xiaoping's experiences between October 1976, when the "cultural revolution" (1966-76) ended, and 1984, when the policy of reform and opening-up was implemented.
The drama is part of nationwide activities marking Deng Xiaoping's historic contributions to China, amid the 110th anniversary of his birth, which falls on Friday.
But the commemoration is more personal for Deng Yuzhi.
"He experienced that important period and met Xiaoping in person after the 'cultural revolution'," the octogenarian's wife Zhang Xianqiong said.
Deng Yuzhi was chief of the general office of the Guang'an county committee of the Communist Party of China in Sichuan province on Feb 1, 1978 when the CPC Sichuan provincial committee asked him to take a report on the county's agricultural and industrial output in 1977 to Chengdu, the provincial capital, where a leader of the CPC central committee would read it.
Deng Yuzhi and two colleagues spent 17 hours in a minivan traveling to Jinniu Hotel in Chengdu, which is in western Sichuan, from their mountainous county in the eastern part of the province.
"We had a pleasant surprise - the leader reading the report was Xiaoping, a native of Guang'an. We were very nervous because we had never met such a high-ranking official before," Deng Yuzhi said in his study in downtown Guang'an.
But Deng Xiaoping, then vice-chairman of the CPC Central Committee, was amiable and all smiles when he met the three people from his home county where he had never returned after leaving at 15.
"After we took the seats in a reception room (in Jinniu Hotel), Xiaoping asked about the county's grain output. He said it had been poor several years before," Deng Yuzhi said.
"Because of radical policies, floods and droughts, the county's grain output in 1975 plunged by more than 36 million kilograms from that of the previous year. In 1976, the county with more than 1 million people had slightly more than 100 kilograms of rice per capita. In other words, each person had less than 300 grams of rice a day.
"Tens of thousands of people fled the county as beggars and hungry farmers peeled tree bark for food in the spring of 1976," he said.
When he told Deng Xiaoping the county's grain output was 308 million kilograms in 1977, the leader said it was not enough - people had slightly more than 150 kilograms of grain per capita in a year.
Deng Xiaoping advised the county to introduce new seeds which could raise the output by 50 or 100 kilograms per mu (0.07 hectare).
"Xiaoping said seeds would degenerate if they were planted for two years, and nations of the world were all introducing new seeds. He also suggested water conservancy projects for the county," Deng Yuzhi said.
Following the leader's advice, the county managed in 1982 to increase its grain yield to 500 kilograms per mu for the first time.
Deng Yuzhi is one of a few surviving people who have met Deng Xiaoping and mingled with his relatives, according to Yuan Xianfeng, deputy secretary of the CPC Guang'an committee.
He was familiar with Deng Xiaoping's youngest uncle Dan Yixing. To support his farmer uncle in Guang'an, Deng Xiaoping had 10 yuan ($1.6), a considerable sum at that time, sent to him each month.
Soon after the founding of the People's Republic of China in 1949, Deng Xiaoping brought his stepmother Xia Bogen to live with him. When Xia died in 2001 at 103, she had lived with the Dengs for 51 years.
"Xiaoping treated the elderly well," Deng Yuzhi said.
"He was a role model for the younger generation."
huangzhiling@chinadaily.com.cn