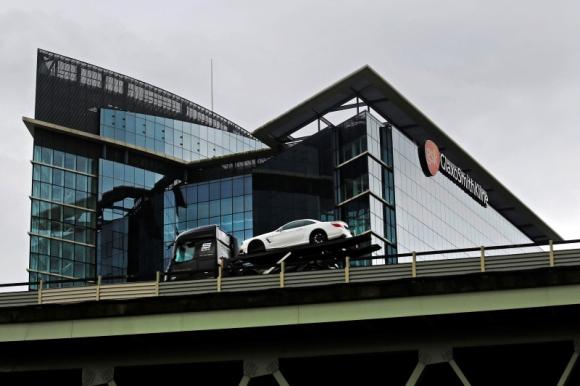 A car transporter drives past the office of pharmaceutical giant GlaxoSmithKline (GSK) in London April 22, 2014. [Photo/Agencies]
British citizen Peter Humphrey and his US wife Yu Yingzeng went on trial in Shanghai on Friday on charges of illegally obtaining private information on Chinese citizens. If convicted they face a three-year prison sentence.
This is the first trial involving foreigners on the charge since China made it a criminal action in 2009.
The charges show that the two defendants were entrusted by clients from China and foreign countries to gather "background information" through a consulting firm ChinaWhys set up in Shanghai in April 2009.
They gathered 256 items of private information, including citizens' household registration, entry-and-exit and cellphone records, from three sources in Beijing and Shanghai who face charges in other cases, and compiled the information into investigation reports which was then sold to their customers.
Much of the information was purchased by foreign companies keen on entering, or expanding in, the Chinese market, including GlaxoSmithKline, the British pharmaceutical giant involved in a commercial bribery case.
The two defendants confessed to their wrongdoing in court and said they regretted and apologized for their actions.
A verdict is expected when the trial concludes.