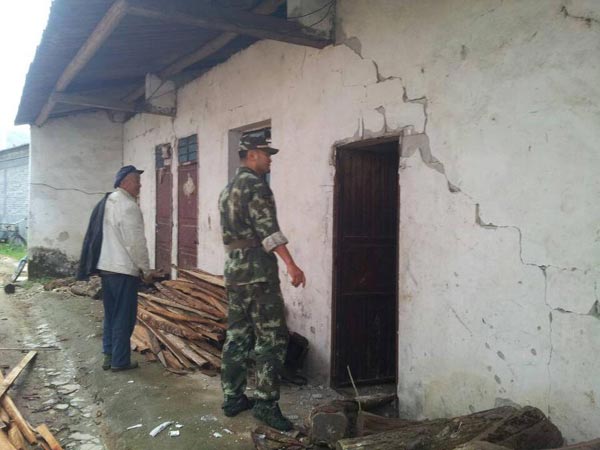 A rescuer (R) inspects a damaged house after an earthquake jolted Yingjiang county of Southwest China's Yunnan province at 4:49 am Saturday. [Photo/Xinhua]
KUNMING - At least 13 people were injured after a 5.6-magnitude earthquake jolted a county in Southwest China early on Saturday morning, provincial authorities said.
The quake, which happened at 4:49 am in Yingjiang county of Yunnan province, had affected 313,000 residents in 15 towns and toppled and damaged 9,688 houses as of 7:40 pm, according to local publicity officials.
The quake has also damaged 36 schools and 9 bridges. More than 10,000 people have been relocated.
Ten injured are receiving treatment at local hospitals and three have left hospital.
The epicenter was in Kachang Town of Yingjiang, which is on a quake-prone belt. The epicenter was measured at 25.0 degrees north and 97.8 degrees east, at a depth of 12 km, the China Earthquake Networks Center said.
About 3,000 rescuers are working in the county to remove potential risks, set up tents and resume the power supply.
Cracks have been seen in the building of Wupai Primary School in Kachang town. The 183 students in the school are expected to have classes in tents next Monday, according to Ke Shangfa, principal of the school.
There had been 293 aftershocks by 3 pm, according to Wei Gang, head of the county government.
Residents rushed out of their homes when the quake happened. Tiles fell from some roofs and there was a power blackout in the epicenter, said Tao Jiqing, Party secretary of the county.
The provincial seismological bureau has dispatched a work team of 50 people to the region to carry out surveying, investigation and disaster evaluation work.
The Yunnan Provincial Civil Affairs Department has sent 4,000 tents, 2,000 quilts and 2,000 folding beds to quake-hit areas.
Yingjiang borders Myanmar. It has a population of 300,000.
Yunnan lies where the Eurasian Plate and Indian Plate meet and is prone to quakes.