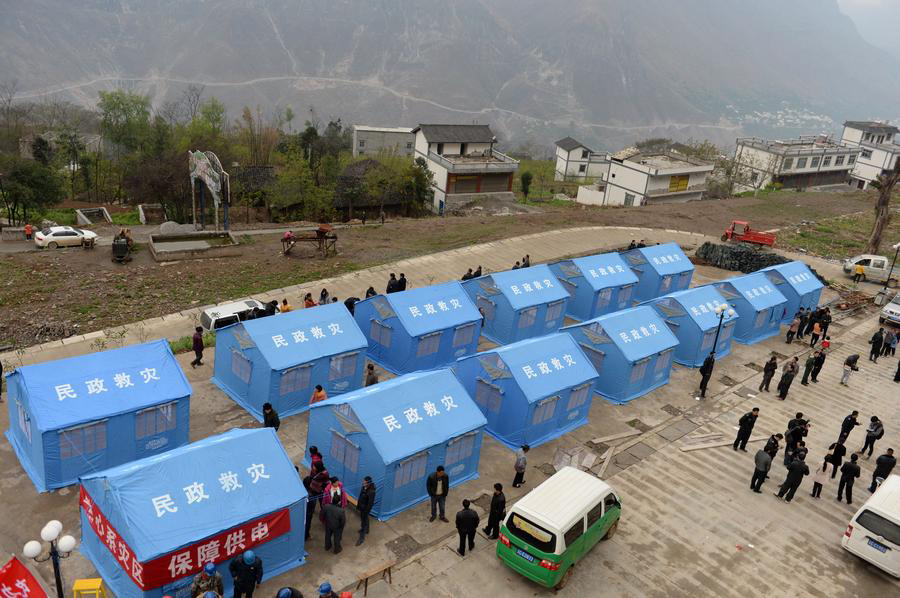 Local residents are resettled at a temporary replacement in Yongshan county, Southwest China's Yunnan province, on April 5, 2014, after a 5.3-magnitude earthquake stuck Yongshan early on Saturday, leaving at least 32 people injured and 21,000 relocated. [Photo/Xinhua]
KUNMING - The 5.3-magnitude quake that hit Southwest China's Yunnan province on Saturday morning has affected 71,200 residents, injuring 32 people, local authorities said Sunday.
Five severely injured people are in stable conditions, as relief efforts continue on Sunday in Yongshan county, the quake epicenter, an official with the county government's information office told Xinhua.
The local government dished out 2,150 tents, and a large sum of quilts, food and water to quake victims in temporary shelters.
The quake hit the county, with an epicenter 13 km deep, at 6:40 am on Saturday, affecting 71,200 residents, of whom 21,000 had to be relocated.
It left houses flattened, transport suspended and electricity and communication facilities damaged. Forty-eight schools were damaged in six towns.
Since students were on their three-day Tomb-sweeping holiday, there were no casualties from schools, according to local education authorities.
More than 1,300 rescuers are searching in debris for possibly trapped victims and helping repair roads.
Electricity supply, transportation and communication have been returned to normal in the quake area.