Economic growth must focus on quality and efficiency: vice-premier
Urbanization will be the main driver of economic growth for the future, Vice-Premier Li Keqiang said on Wednesday.
Growth will be more focused, with the onus on quality and efficiency, not just speed, Li said.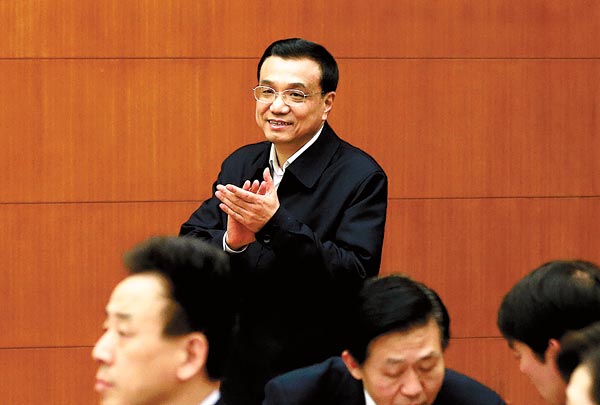 Vice-Premier Li Keqiang arrives at a meeting to address reform measures in Beijing on Wednesday. [Feng Yongbin / China Daily]
"Economic growth must be real," he said at a meeting discussing reform.
Growth will have to ensure more job opportunities, higher incomes, better performances by enterprises and more effective use of energy and resources, he said.
Domestic demand, especially from unprecedented urbanization, will overtake exports to become the main driver of the economy, Li said.
The vice-premier also said it is an urgent task to reform investment and fundraising systems to boost domestic consumption.
He urged officials to clear the hurdles for the reform.
Large-scale urbanization and related development projects are likely to drive GDP growth to 8.4 percent in 2013, the World Bank said on Wednesday.
The global organization predicted that due to weak exports and the government's efforts to cool the real estate sector, GDP will grow about 7.9 percent in 2012, the slowest pace since 1999.
The annual session of the National People's Congress, the top legislature, scheduled for March, will set economic targets while deciding the line-up of the new cabinet.
Many economists forecast that the government would set the GDP target at around 7.5 percent for 2013, the same as 2012. A higher target might give the impression that growth, rather than its quality, was the priority, they said.