Local authorities in Shuangcheng city, Heilongjiang province, have removed the manager of a State-owned company who was also deputy to the city's people's congress from his posts, after a former TV host reported him for sexual assault.
Wang Dechun, a 42-year-old former TV host at Shuangcheng TV Station, has accused Sun Dejiang of pressuring her to maintain a sexual relationship with him.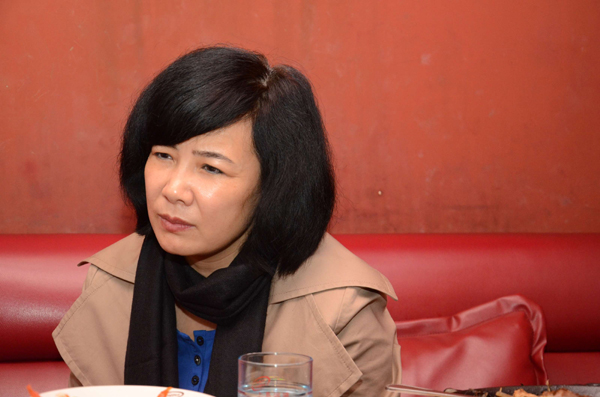 Wang Dechun, a 42-year-old former TV host, has accused a people's congress deputy of Shuangcheng city, Heilongjiang province, of coercing her to have a sexual relationship with him. [Photo by ZHAO SIHENG / BEIJING TIMES]
Wang made the allegations on micro-blogging platform Sina Weibo on Nov 23.
She also alleged Sun had abused his power for private gain, and helped people to fake retirement documents to receive pensions, sold public property at low prices and helped his relatives make illicit gains.
The Party discipline inspection committee in Shuangcheng decided to investigate Sun after Wang wrote the post. They later found Sun had violated rules in his handling of State assets. Sun was also found to have used his power to help fake retirement documents for Wang's mother.
The Shuangcheng government announced on its micro blog on Monday that Sun had been removed from his posts as a manager of Shuangcheng Industry Corp and deputy to the city people's congress.
The discipline committee said Wang's allegations that Sun has been pressuring her to maintain a sexual relationship with him and forced her into sexual intercourse, including when she was seven months pregnant, could not be confirmed, as Wang could not be reached to assist with the investigation.
The investigation is continuing.
Wang said she met Sun in 1997 when she was conducing an interview at a brewery in Shuangcheng where Sun was the manager.
"He tried all means to approach me and even hired my husband, who is a lawyer, as his legal assistant at that time," she said.
Sun later used a tape recording of himself and Wang having sex to coerce Wang to maintain the relationship. Wang, the host of a TV news program at the time, said she was mindful of her reputation, and did not want to lose her job at the TV station.
Wang left the TV station in 2001 to go into business. She divorced her husband in 2005.
However, Wang's business activities were not successful and she was forced to sell her car in order to repay debts. In 2011, Wang borrowed 150,000 yuan ($24,000) from Sun after she ran into financial difficulty. She failed to repay the debt to Sun on time, which triggered conflict between the two, according to a Beijing Times report.
On Nov 14, Sun threatened to take legal action over the debt, which further intensified the conflict.
On Nov 23, Wang used Weibo to accuse Sun of sexual assault and corruption. She wrote in detail of how Sun pressured her. The post was forwarded by thousands of users.
She admitted that she took courage from Lei Zhengfu's case.
Lei Zhengfu, Party secretary of Beibei district in Chongqing, was removed from office on Nov 23 after a sex tape between him and his mistress was exposed online.
"But I would never put myself in the spotlight like this unless I was forced to," Wang said.
Contact the writer at xuwei@chinadaily.com.cn