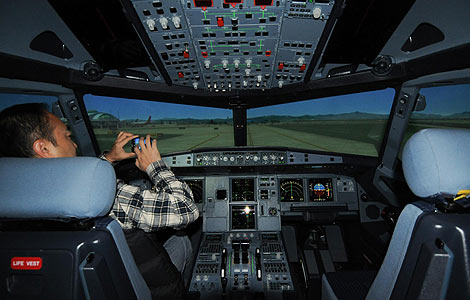 A man takes a picture inside the cockpit of A320 flight simulator in Beijing, Dec 3, 2012. [Photo/Xinhua]
Hua Ou Aviation Training Center in Beijing, a joint venture of Airbus SAS and China Aviation Supplies Holding Co, on Dec 3 commissioned its first A320 full flight simulator that is upgradeable to support flight training for the A320neo.
The new simulator, which will use the flight training of current A320 aircraft, can be easily upgraded to support the Airbus A320neo, said Raymond Lim, Hua Ou Aviation general manager.
The A320neo will enter service in 2015, and ICBC Financial Leasing Co Ltd signed an agreement with Airbus for 20 A320neos in August. ICBC Financial Leasing is also A320neo's first customer in China.
The simulator is also the fourth full flight simulator for Airbus aircraft in the training center, including three for A320 family and one for A330 and A340 family aircraft. Over 24,000 professionals — including pilots, flight attendants, maintenance technicians, performance personnel and structure technicians — have been trained in the center.
Most of the trainees in the center are from Chinese airlines, although the center has trained crews from more than 30 airlines worldwide.
"Chinese customers are still primarily centered in Beijing," said Peter Tiarks, Airbus China's customer service vice-president.
By the end of October, Airbus delivered over 720 A320 family aircraft to Chinese customers.