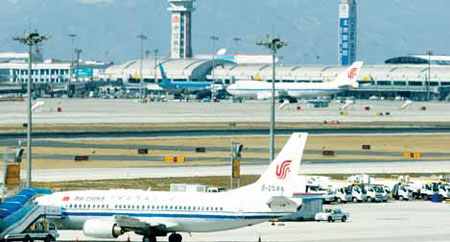 With a passenger throughput of 79 million last year, Beijing Capital International Airport is among the world's busiest. Wu Changqing / for China Daily
Authorities expect explosive growth in sector to continue
After 10 years of rapid development, China's civil aviation industry is poised to further increase its clout in the world market, according to China's top civil aviation authority.
As of June, there are nearly 3,100 aircraft operating in the civil aviation market on the Chinese mainland, nearly triple the total in 2002. Of those, more than 1,850 are transportation aircraft and more than 1,200 are general aviation planes, according to the Civil Aviation Administration.
Currently, there are 46 airlines on the mainland, which is 12 more than the number in 2002, and 134 general aviation companies are operating in the market.
The country's civil aviation industry generated more than 500 billion yuan worth of revenue in 2011 and made 36.3 billion yuan in profit, according to the administration.
China had signed bilateral civil aviation agreements with 114 countries and regions by the end of 2011, and the International Civil Aviation Organization has decided to locate one of its regional offices in Beijing, indicating that the organization is determined to enhance its cooperation with China, according to the Civil Aviation Administration.
International flight services have flourished during the past decade. According to the figures released at the end of 2011, China has 2,290 regular routes. Of them, more than 1,800 are domestic and more than 400 are overseas. All the figures doubled those of 2002.
Cross-Straits flights
Ties between the mainland and Taiwan have warmed in recent years, creating a huge market for flights across the Taiwan Straits.
The first non-stop chartered flights across the Straits in more than five decades were launched in 2005 during the Spring Festival holiday. These routes enabled businesspeople from Taiwan with investments on the mainland to make shorter and more convenient trips during China's most important holiday.
In 2006, the service was opened to all residents of Taiwan for the first time. Starting from Mid-Autumn Festival 2006, direct chartered flights became available during the four main traditional Chinese festivals -- Tomb Sweeping Day, Dragon Boat Festival, Mid-Autumn Festival, and Spring Festival.
In 2009, cross-Straits flights became regularly scheduled instead of chartered, a change that happened sooner than many in Taiwan had expected.
The mainland has opened 41 destinations for airlines from Taiwan, and Taiwan allows mainland flights to land on nine of its airports.
A far-reaching domestic airline network has been formed. Under this framework, Beijing, Shanghai and Guangzhou act as national civil aviation hubs, and important provincial capitals, such as Kunming, Chengdu, Xi'an and Shenyang, serve as regional transfer hubs, according to the administration.
The number of flights that link underdeveloped western regions, like Tibet, Xinjiang and Qinghai, with other places substantially increased during the period, significantly facilitating their economic and social development, according to the administration.
Continue to grow
The 12th Five-Year Plan period (2011-15) will continue to be a time of fast expansion for China's civil aviation industry, said Li Jiaxiang, head of the Civil Aviation Administration.
Total investment in the industry will surpass 1.5 trillion yuan ($240 billion) from 2011 to 2015, and investment in civil aviation infrastructure will exceed 420 billion yuan during the five years.
By 2015, China will have more than 230 civil airports and a fleet of more than 4,500 civil aircraft, which will further enhance the industry's capability to boost economic development and serve the public, Li said.
Civil aviation policymakers have also pledged to accelerate the construction of airports, especially in the underdeveloped regions, Li said.
"I once received some governors from western provinces and regions in my office, and they told me that though their governments could compete with their counterparts in eastern regions in terms of civil aviation investment, they still decided to allocate as much money as possible to building airports," Li told CAAC News, a newspaper affiliated with the administration.
"We share a common belief that the decision to build an airport should not only depend on its profitability but also its influence on economic development and social advancement," Li said.
Stronger capacities
Massive investments in infrastructure have increased the capacity of airports across the country to serve passengers and handle cargo.
In 2002, there were only four airports in China that could handle more than 10 million passengers annually, and by the end of last year, the country had 21 such airports.
The annual total number of passengers handled by China's airports grew from 171 million in 2002 to 620 million in 2011.
Total cargo throughput of the airports in 2011 was 11.5 million tons, nearly three times that of 2002.
The Beijing Capital International Airport is now the second busiest airport in the world in terms of passenger throughput. It is second only to the Hartsfield-Jackson Atlanta International Airport in the United States. The capital's airport handled almost 79 million passengers last year.
The Shanghai Pudong International Airport ranked third in terms of cargo throughput last year, trailing close behind airports in Hong Kong and Memphis in the US.
Working in tandem with State-owned companies, private capital has strengthened China's civil aviation industry. Private companies are now active in almost all areas of the industry.
Among the 46 airlines on the mainland, 10 are privately owned, and private companies have invested 72.4 billion yuan in the civil aviation sector to date.
In general aviation, 103 out of the 140 companies in China are private, and in civil aircraft repair, nearly 25 percent enterprises are private.
Half of the 10 Chinese institutions that train pilots are funded by private businesses, and more than 75 percent of air transport agents are private.
The central government has pledged to support China's civil aviation industry, and several concrete measures have been released and implemented, Li said.
The Chinese authorities have gradually opened up low-altitude airspace in several cities and regions on a trial basis to boost the general aviation sector.
In July, the State Council issued a set of guidelines for promoting the development of China's civil aviation industry, with the goal of making China an important force in the global aviation market, administration officials said.
zhaolei@chinadaily.com.cn