A former Peking University professor who alleged his colleagues sexually harassed restaurant waitresses has admitted he exaggerated the claims, Beijing News reported Friday.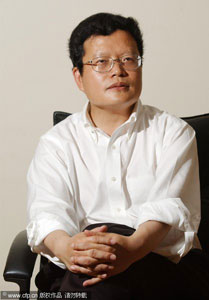 File photo of Zou Hengfu taken on Sept 6, 2006. [Photo/CFP]
Zou Hengfu claimed last week on a micro blog that Peking University deans and directors regularly sexually harassed waitresses at their local restaurant they frequent.
On Thursday, the university published a statement claiming Zou had provided no concrete evidence in telephone or emails to the university.
The statement confirmed the discipline inspection commission of the university received telephone calls and emails from Zou after the allegation was made.
Referring to harassment, Zou claimed that PKU deans and directors would "always do that" after having meals at the Mengtaoyuan Restaurant, located close to the university's hospital. However, Zou did not reveal their identities or provide any evidence for his claims.
"I acknowledge sex allegations can attract eyeballs and this is my speech strategy. I always like exaggerating when talking and this is my style," admitted Zou.
"I hope Peking University will not just grab the Mengtaoyuan Restaurant allegation. What I target is the education problem of the whole nation," he added.
Zou used to be an economic professor with the university before he was fired in 2007. Some claim Zou's claim was a revenge, which he denied. Zou now works as lifetime economist with the World Bank.