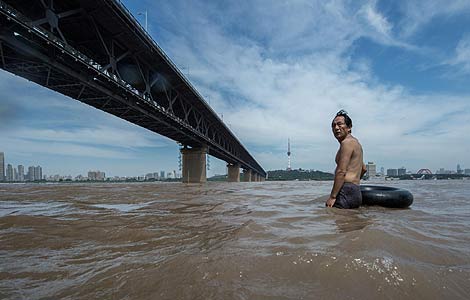 A man swims in Yangtze River in Wuhan, Central China's Hubei province, July 9, 2012. The water level of Yangtze River rose after heavy rains. [Photo/Xinhua]
BEIJING - China's meteorological authorities on Monday predicted that heavy rain will batter northern parts of the country in the next three days, and high temperatures will continue to scorch the south.
Southern parts of Shaanxi province, the Sichuan Basin, southern parts of north China, regions along the Yellow and Huai rivers, and central-northern parts of northeast China will see heavy rain and rainstorms from Monday to Wednesday, said the National Meteorological Center.
In the period, downpours are expected to hit northern parts of the Sichuan Basin and southern parts of Liaoning province, with precipitation reaching up to 200 mm, the center said.
Meanwhile, a heatwave will continue to parch regions along the Yangtze and Huai rivers, central-eastern parts of south China, Chongqing municipality and eastern parts of Guizhou province from Monday to Wednesday, it added.
It is also likely that regions south of the Yangtze River will see temperatures reaching up to 39 degrees Celsius during the period.